••••••••••••••••
One-page Sketch #17
You can download and print this sketch by clicking on the one-page sketches link found under the "printable sketches" tab on the right sidebar.
"Fun on the 4th"
by Christine Chain
Supplies
-
Patterned paper:
Jillibean Soup (Watermelon Gazpacho and Blossom Soup);
Banana Leaf paper:
Creative Imaginations;
Stickers and alphabets:
Jillibean Soup;
Pen:
Slickwriter by American Crafts
Variation #1
- I swapped out the stars on the left for a bunch of labels and stickers.
When I first saw this sketch, I thought, "Cool, this will be perfect for my Fourth of July photo!". Then I went to the scrapbook store, so naturally I bought more than I needed, including a sheet of stickers from Jillibean Soup. I stepped WAY out of my comfort zone and had fun with lots of stickers here.
Variation #2
- I moved the title down onto the photo and to the right.
I like the idea of the title on the top, but my papers were too busy, and I had a nice open spot on my photo asking for some word art.
Variation #3
- I skipped the journaling strips and used a label sticker instead. I had been contemplating this design change, and then I realized I didn't have anymore matching cardstock. Done. I like the label here.
• • • • • • • • • • • • • • • • • • • • • • • • • • • • • •
"Gotcher Game On"
by Michele Edwards
Supplies
-
Cardstock:
Bazzill;
Patterned Paper:
The Paper Company, Creative Imaginations, Moxxie;
Embellishments:
Stars cut with die-namics, Queen and Company rhinestones;
Alphabets:
Cricut (Plantin Schoolbook);
Floss:
DMC.
I always love sketches like this. All those bits and pieces of paper really pop. Another thing I love about this, other than the background cardstock, all the paper came from my scrap bin!
Variations
1.
I stayed true to the sketch, the main difference was that I stretched the sketch to cover two pages.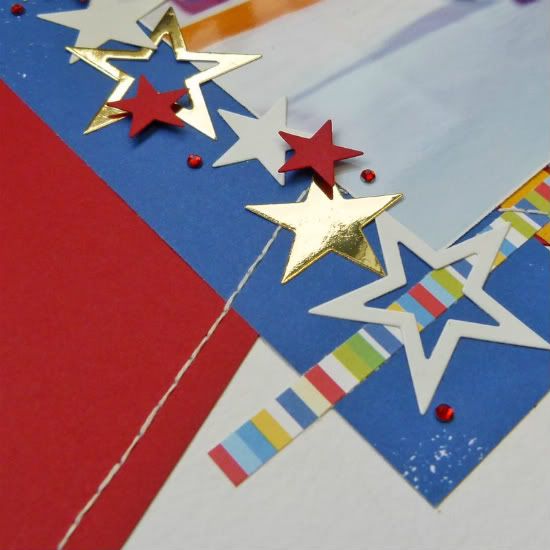 2.
I used pop-dots to raise some of the stars.
• • • • • • • • • • • • • • • • • • • • • • • • • • • • • •
"Twinkle"
by Janette Kincaid
Supply List
-
Patterned Paper:
Little Yellow Bicycle;
Letter Stickers:
Cosmo Cricket and Basic Grey;
Floss/String:
DMC and Martha Stewart Crafts (Cotton Hemp Yarn, Red);
Brads and Staples:
unknown
The second I saw this sketch I knew the photo and papers I wanted to use. I love it!! Although my large star ended up just a wee bit bigger and I didn't use quite as many little stars to the left of the photo, I copied the sketch almost to the letter.
Variation #1
- I stapled a length of red string over the little layered stars in place of the stitching.
Variation #2
- Rather than paper strips behind the photo I used a patterned paper with stripes instead – this is just a touch smaller in size.
Variation #3
– I pleated the thin horizontal strip and placed it under the photo mat rather than on top.
•••••••••••••••••••••