••••••••••••••••
One-page Sketch #17
You can download and print this sketch by clicking on the one-page sketches link found under the "printable sketches" tab on the right sidebar.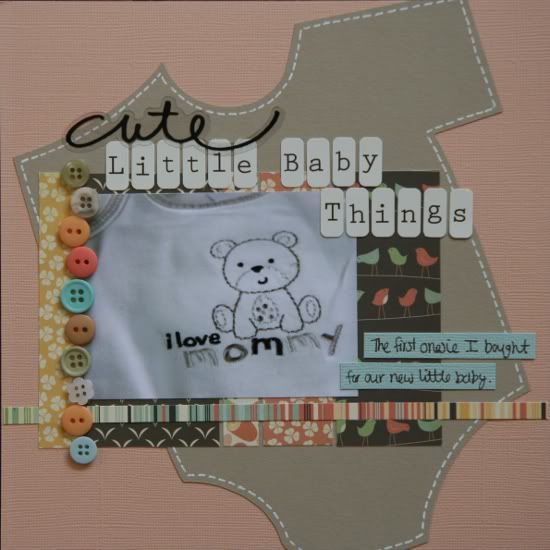 "Cute Little Baby Things"
by Noey Hunt
Products used
-
Patterned papers:
Cosmo Cricket;
Stickers:
Deja Views (cute);
Letters:
Prima;
Tools:
Silhouette (onesie)
Variation 1:
I shrunk the sketch. The album this layout goes in is only 8x8 inches, so I took all the sizes and shrunk them to 2/3 the original size. The photo is only 3x4 inches.
Variation 2:
The stars did not fit my theme so I swapped out the large one for a baby onesie and the little ones for buttons.
Variation 3:
Some minor adjustments. My title was extra long so I continued it next to the photo. Since there isn't much room on an 8x8 layout, I kept the journaling short and sweet.
• • • • • • • • • • • • • • • • • • • • • • • • • • • • • •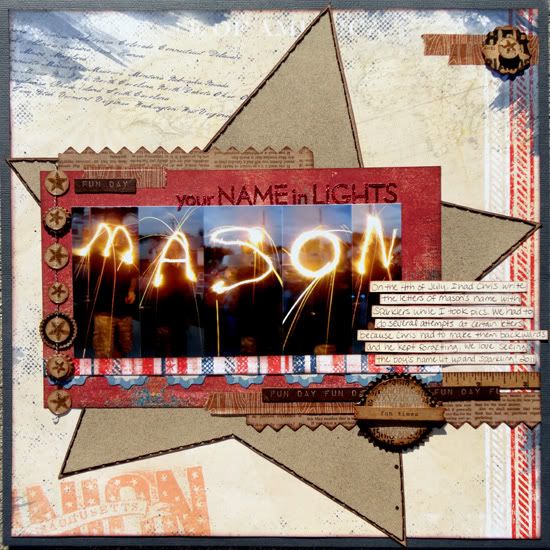 "Your Name in Lights"
by Andrea Friebus
Supply list
-
Cardstock:
American Crafts, Bazzill Basics;
Patterned paper:
Basic Grey, Bo Bunny;
die cut borders, garland, chipboard, stickers:
My Mind's Eye;
Ink:
Clearsnap;
spray mist:
Tattered Angels;
decorative tape:
American Crafts;
embroidery floss:
DMC;
letter stickers:
Making Memories;
star stamp:
Li'l Davis
Variation #1
- I decided to flip flop the photo and the background paper the photo is on. Instead of five papers for the background photo mat I used one and instead of one photo, I used five that I merged together and printed as one. My photos turned out to be larger than the 6x4 in the sketch so I made the mat behind them larger, too.
Variation #2
- I matted my entire layout on a sheet of cardstock. I really wanted to use the red, white, and blue striped paper underneath the photos but it was on the back of the main piece of patterned paper. So I trimmed a small piece off which made the paper smaller than 12x12 so I mounted it on cardstock.
Variation #3
- I added some borders, die cuts, and stickers behind and on top of the star, and in the upper right corner for texture and interest.
Variation #4
- My title is smaller and less noticeable than the sketch so it wouldn't compete with my son's name in the photos.
Variation #5
- Instead of using stars and stitching them down for the border, I used the back side of the My Mind's Eye garland and stamped stars on the circles. They were already stitched together!
••••••••••••••••••••••