••••••••••••••••
One-page Sketch #17
You can download and print this sketch by clicking on the one-page sketches link found under the "printable sketches" tab on the right sidebar.
"Male Patterned Paper"
by Jennifer Larson
Supply List
-
Cardstock:
Bazzill Basics;
Patterned paper:
Lily Bee, Cosmo Cricket, October Afternoon, Echo Park, Basic Grey;
Stickers:
October Afternoon (black letters), Webster's Pages (e), 7 gypsies (date);
Wood letters:
Pink Paislee;
Mist:
Studio Calico;
Punches:
EK Success;
Die cuts:
Tim Holtz (Play ticket), Cosmo Cricket (flower);
Glazed Brad:
Basic Grey;
Pen:
American Crafts, Zig;
Floss:
DMC;
Misc:
photo corners, button, thread
Variation #1:
I was inspired by the strips of patterned paper, and I had more than one photo, so I made the paper strips the mat for my three photos. I removed the space between the paper.
Variation #2:
I switched the orientation of the sketch to match the photos I had; the main photo was vertical and looked better on the right side, so I moved the title and journaling.
Variation #3:
I LOVE the star, but it didn't fit as strongly thematically for my page, so I didn't want it to be as prominent on my page. Instead, I stitched a star to "decorate" my letter sticker in my title (which of course I used because I'd run out of e's in the wood letters!). (I used a punched star as a pattern for my stitching.)
• • • • • • • • • • • • • • • • • • • • • • • • • • • • • •
"Turning Up the Texas Temps"
by Megan Bickers
Supplies Used
-
Cardstock:
Georgia Pacific (White), DMD Inc. (Kraft), EK Success (Maple Lane: Black);
Patterned Paper:
Crate Paper (Crush: Longboard), October Afternoon (Thrift Shop: Complete Set);
Inks:
Ranger Distress Inkpads (Walnut Stain, Antique Linen), Tsukineko (Versamark: Clear);
Stamps:
All Night Media (Wood grain);
Stickers:
Basic Grey (Pyrus: Micro Mono Stickers, Green At Heart: Chipboard Alpha), Making Memories (Tiny Alphas: Brown Ledger), Heidi Swapp (Center of Attention: Black Chipboard Alphas);
Tools:
Silhouette America (Silhouette Cameo: TX shape, Stars), Martha Stewart Crafts (12x12 Scoring Board), Ranger (Foam Blending Tool);
Markers:
EK Success (Zig Black Writer);
Adhesive:
Ranger (Glossy Accents), Recollections (Foam Squares).
Variation #1:
I changed the base shape from a star to the shape of Texas. I cut this shape with my Silhouette Cameo machine.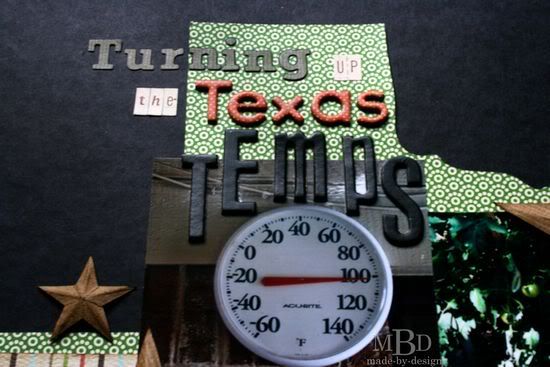 Variation #2:
I moved the horizontal strip up to the center of my layout so it didn't distract from the Texas shape.
Variation #3:
For my photos, I collaged a grouping of five smaller photos instead of using just one 4x6 as shown on the sketch. I also just added the photos directly to the layout instead of layering them on the strips of paper. I felt they covered up my base shape too much.
Variation #4:
I loved the look of the stars on the sketch, but instead of lining them up on the photos, I scattered them across my layout to balance the larger base shape.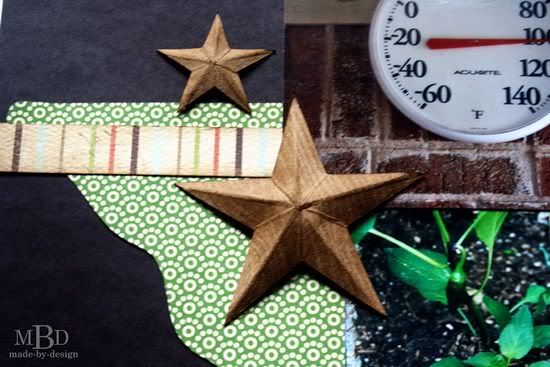 I cut the stars with my Silhouette Cameo, then stamped them with a woodgrain stamp, scored them, folded them and used a foam blending tool to add darker ink to the fold lines and edges. They are attached to the layout with foam squares. I love how these remind me of a Texas barn star.
Variation #5:
Instead of adding my journaling on the right as shown on the sketch, I moved mine to the bottom left so it would balance out the largest star I used on the layout. My journaling strips were created with white cardstock that was inked directly with a cream inkpad.
• • • • • • • • • • • • • • • • • • • • • • • • • • • • • •
"Still Kids at Heart"
by Sue Althouse
Supplies
-
Cardstock:
Bazzill;
Patterned Paper:
My Mind's Eye (Stella & Rose Gertie);
Alphabet:
Lily Bee (Harvest Market), American Crafts (Thickers);
Heart and Star Punches:
Fiskars;
Other:
black chalk ink, typewriter
I used the basic elements in the sketch as inspiration for my light-hearted page about our son and daughter in-law. To create the heart and star embellishments, I used my punches and adhered 6 layers of paper together to create a dimensional chipboard effect.
Variation #1
- used two 4x3 photos instead of the 4x6 and rotated the orientation from horizontal to vertical.
Variation #2
- reduced the dimensions of the star and placed it beside the photos with the title in the center.
Variation #3
- omitted the background pieces and placed patterned paper strips along the border of the page for a playful frame.
Variation #4
- scattered the small star embellishments around the page instead of clustering them.
• • • • • • • • • • • • • • • • • • • • • • • • • • • • • •
New Books and a Giveaway!
A new year always means new books from SG Publishing! We are excited to bring you two new books in the Sketches for Scrapbooking series: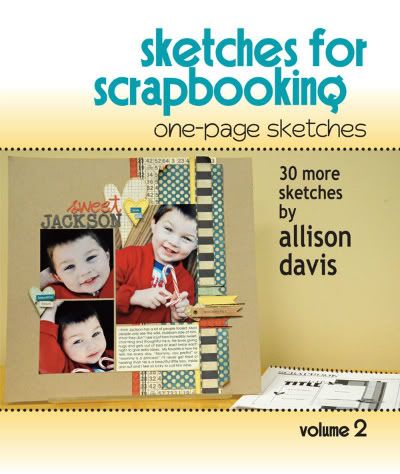 After the popularity of Sketches for Scrapbooking: One-page Sketches, volume one, we knew we wanted to do another quickly. The book is filled with 30 one-page sketches that have anywhere from one to eighteen photos!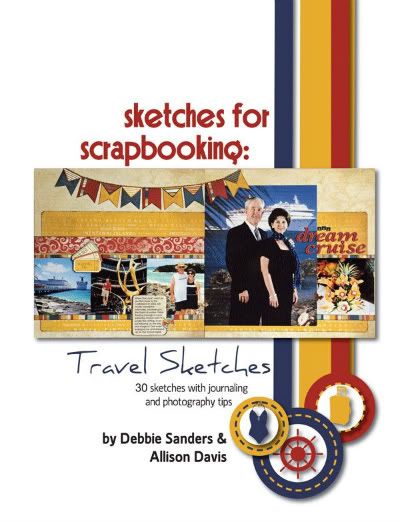 The new travel sketches focus on two-page sketches using large numbers of un-cropped photos (think lots of 4 x 6 photos!) and larger areas of journaling than our regular sketches. There are also sketches that include enlargements and most of the photos that are cropped are 4 x 4 (the easiest crop!). Don't worry if you aren't a traveler, these sketches can be used for any topic!
Both books will be available at the end of January.
We have already started taking pre-orders for both books. You can either call us at
417-886-0440
or you can visit our
website
.
Today we are giving away both of these books to two of our readers. To be eligible, leave a comment on this post and we'll randomly select two winners. You have until Monday and we'll announce the winners on Wednesday.
•••••••••••••••••