••••••••••••••••
One-page Sketch #17
You can download and print this sketch by clicking on the one-page sketches link found under the "printable sketches" tab on the right sidebar.
"Karate, The Journey to Black Belt"
by Virginia Nebel
Supplies List
-
Cardstock:
Bazzill;
Patterned paper:
Websters's Pages;
Embellishments:
Making Memories brads;
Word stickers:
Paper Wizard die cut;
Stamps:
The Greeting Farm, Hero Arts;
Markers:
Copic Markers;
Die cuts:
Lifestyle Crafts
Variation #1:
I omitted the stitched star background and used kraft cardstock with a notebook border punch on the edges
Variation #2:
Instead of multi-width vertical stripes, I used 2 inch wide stripes stitched on the edges to mimic karate belts. The colours (left to right) represent each belt level accomplished.
Variation #3:
Instead of stitched vertical stars, I cut out stars from thin sheets of balsam wood and stamped some with Asian script to create Ninja star accents.
Variation #4:
I placed a large title beneath the photo. The journaling strips were placed above and beneath the photo.
• • • • • • • • • • • • • • • • • • • • • • • • • • • • • •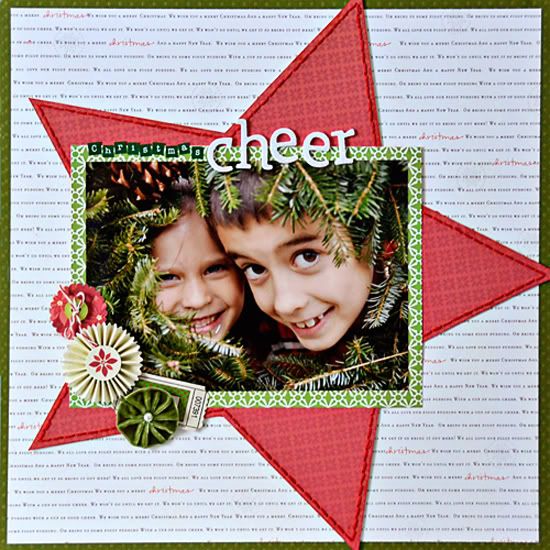 "Christmas Cheer"
by Suzanna Lee
Supply List
-
Cardstock:
Bazzill Dots;
Patterned paper:
Little Yellow Bicycle;
Button:
Making Memories;
Flowers:
Maya Road, Little Yellow Bicycle, October Afternoon;
Ticket:
Jenni Bowlin;
Letter Stickers:
KaiserCraft, American Crafts;
Embroidery Thread:
DMC
Variation 1:
The picture size is 5 x 7 instead of 4 x 6. Rather than use multiple pieces behind the picture, I went with a single piece. The kids have their heads peeking through a wreath and I wanted the single green piece to be suggestive of the wreath with the continuity of green.
Variation 2:
Rather than the line of stars moving down the left hand edge of the picture I went with a cluster of Christmas flowers at the bottom left corner.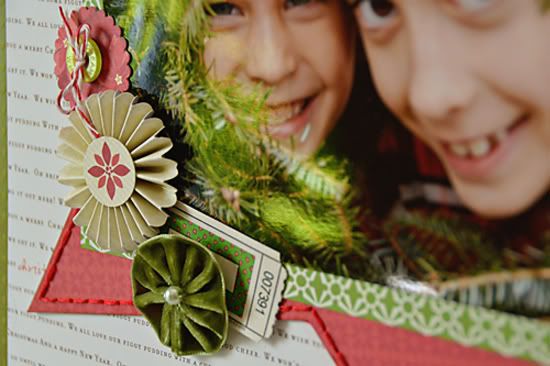 Variation 3:
Omitted the stripey strip across the page.
Variation 4:
No journaling strips. In fact, no journaling. I suppose I ought to do that, eh? LOL!!
• • • • • • • • • • • • • • • • • • • • • • • • • • • • • •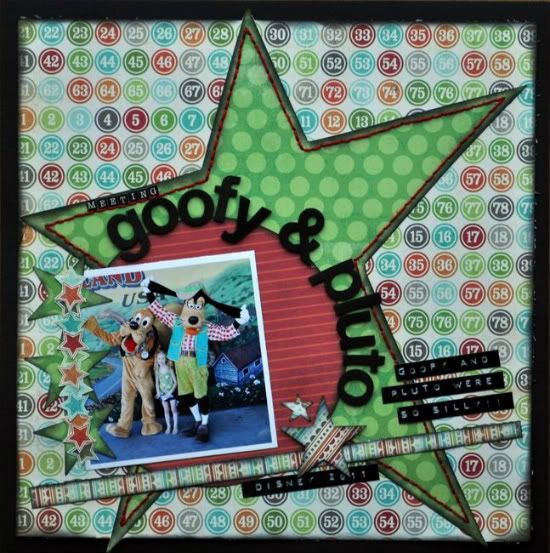 "Meeting Goofy & Pluto"
by Jill Sarginson
Supplies Used
-
Patterned Paper:
My Mind's Eye;
Cardstock:
Bazzill Basics;
Alpha:
American Crafts, The Girls Paperie;
Tools:
Creative Memories circle cutting system, Creative Memories star punch;
Floss:
DMC;
Ink:
Vibrance;
Other:
Dymo Labeling Gun
Variations:
• I added a cardstock matte to the entire layout.
• I tilted the design a bit to the left.
• I substituted the strips of paper behind the photo for a circular piece of pattern paper.
• I rotated my title around my circular piece of patterned paper.
• I included a journal strip under my vertical strip of pattern paper.
• The photo size is 4x4.
•••••••••••••