••••••••••••••
Two-page Sketch #24
You can download and print this sketch by clicking on the two-page sketches link found under the "printable sketches" tab on the right sidebar.
"All Bundled Up"
by Lynette Jacobs
Supply list
-
Cardstock:
Bazzill;
Printed Papers:
Fancy Pants (Frosted);
Punches:
EK Success and Martha Stewart;
Brads:
Art from the heart;
Letter Stickers:
Scenic Route
Variation #1:
I punched the bottom strips instead of scalloping it.
Variation #2:
I cut pine trees along the top of the wavy paper strip.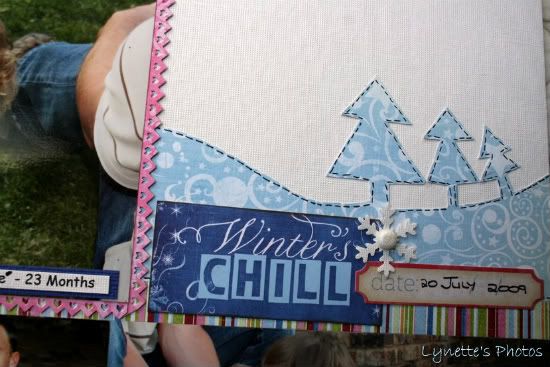 Variation #3:
I matted the top photo on the second page.
Variation #4:
Instead of stitching on the wavy strip I fauxed stitched with a pen around the entire piece of paper including the little pine trees.
• • • • • • • • • • • • • • • • • • • • • • • • • • • • • •
"At the Ball Park"
by Jennifer Larson
Supplies
-
Patterned Paper:
Pink Paislee, Jillibean Soup, The Girls' Paperie, Studio Calico;
Cardstock:
Bazzill;
Stickers:
Doodlebug, Basic Grey, Studio Calico;
Stamp:
Jillibean Soup;
Ink:
Stampin' Up!;
Buttons:
October Afternoon;
Jute:
American Crafts;
Adhesives:
Scotch, Zig 2-Way glue, Glue Dots;
Twine:
American Crafts;
Punch:
EK Success
Variation #1:
I didn't change the design too much. The major change was to eliminate the snowflakes, since this was a page about baseball.
Variation #2:
I did change the scallops to pennants that I cut out of patterned paper--perfect for baseball!
• • • • • • • • • • • • • • • • • • • • • • • • • • • • • •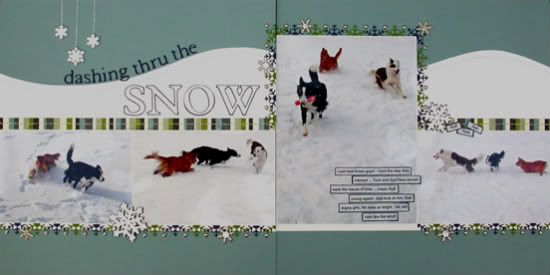 "Dashing Thru The Snow"
by Michele Edwards
Supplies
-
Cardstock:
Cor'dinations, American Crafts, Bazzill, BoBunny;
Patterned Paper:
Pebbles;
Embellishments:
Snowflakes cut with die-namics, snowflakes cut with Cricut (Christmas Cartridge), glamour dust, unknown silver and silver snowflake brads;
Alphabets:
Cricut (Plantin Schoolbook),
Floss:
DMC
Variations
1. I used a 6X8 picture instead of the photoblock on the right page.
2. Instead of the scalloped edge, I used half-snow flakes in alternating blue and green. I used the snowflake edging to frame the focal picture.
3. To add sparkle, I highlighted the snowflake edging with tiny silver brads, randomly using silver snow flake brads. For even more sparkle, I used glamour dust on all the white snow flakes and the word "SNOW" in the title
4. I stitched around the curved edge of the photo mat, and again through the center of the striped strip.
5. I used journal strips rather than a journal block.
••••••••••••••••••••