••••••••••••••
Two-page Sketch #24
You can download and print this sketch by clicking on the two-page sketches link found under the "printable sketches" tab on the right sidebar.
"Winter Wonderland"
by Sue Althouse
Supplies
-
Cardstock:
Bazzill;
Patterned Paper, Journaling Tag, Sticker:
Cosmo Cricket (Odds & Ends);
Alphabet:
American Crafts, Bella Blvd.;
Tools:
Martha Stewart snowflake punch, Sew Easy;
Stamp:
Technique Tuesday;
Ink:
Hero Arts, Creative Memories;
Other:
black brads, black DMC floss
I really like the sketch as it is, so my alterations are minor. Since my photos are colorful and bold, I decided to go with more muted and simple color choices for my paper.
Variation #1
- Substituted one 4x6 photo for the three smaller photos.
Variation #2
- Altered the wavy pattern and cut the strips 2" tall.
Variation #3
- Inked the striped strips with brown chalk ink.
Variation #4
- Omitted the small journaling strips.
Variation #5
- Added brads to some of the holes in my scallop strip.
• • • • • • • • • • • • • • • • • • • • • • • • • • • • • •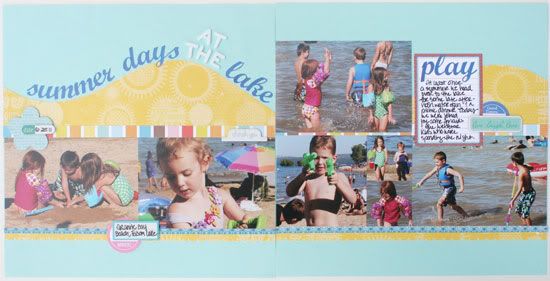 "Summer Fun at the Lake"
by Christine Chain
Supplies
-
patterned paper:
Echo Park, Little Yellow Bicycle, Technique Tuesday;
journaling block:
Technique Tuesday;
chipboard and cardstock stickers:
Bella Blvd.;
letter stickers:
American Crafts;
pen:
Slickwriter by American Crafts
Variation #1
- It's not a winter layout! Ha! So far we've had a mild winter in northern California, so there hasn't been any snow to visit. However, the wave in the sketch reminded me of water, and I had plenty of lake photos from last summer so I played with those.
Variation #2
- Since it's a summer layout, I left off the snowflakes and used some fun journaling spots and chipboard accents instead.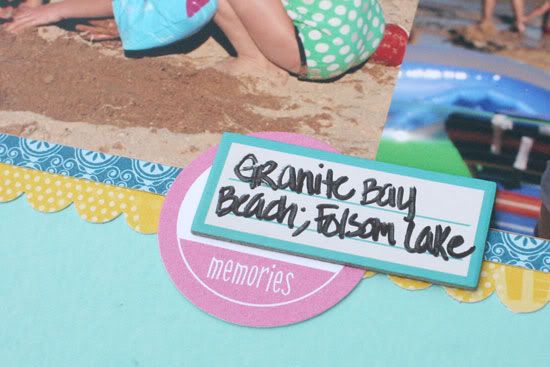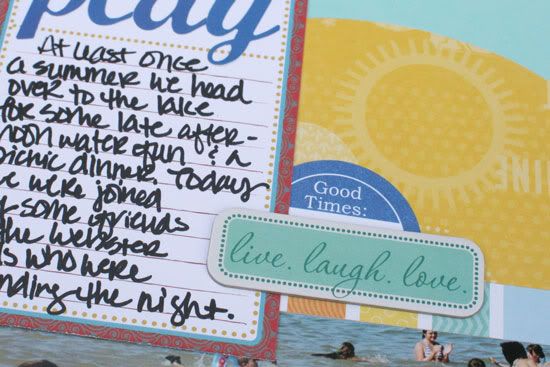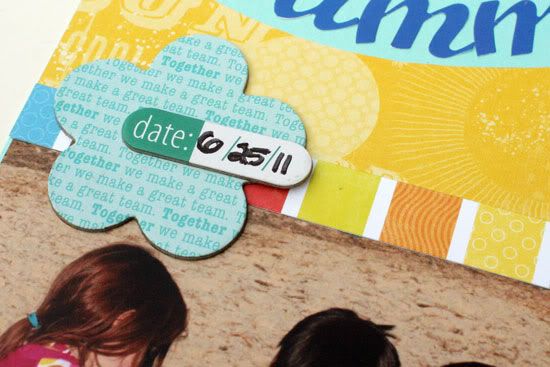 • • • • • • • • • • • • • • • • • • • • • • • • • • • • • •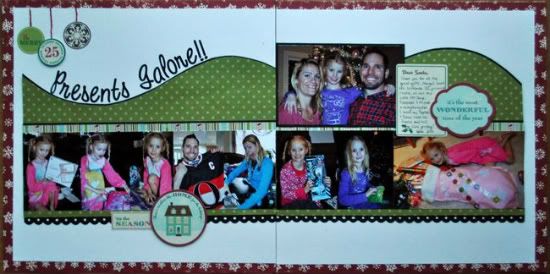 "Presents Galore"
by Jill Sarginson
Supplies Used
-
Pattern Paper:
October Afternoon;
Cardstock:
Bazzill Basics;
Stickers:
October Afternoon;
Tools:
Fiskars Threading Water border punch;
Floss:
DMC;
Alpha:
Bella Blvd
Variations:
• I substituted circle embellishments for the snowflakes in the upper left corner.
• I added a matte around the entire layout.
• Because of the matte, I had to resize my photos. They are all 3.5 inches high and vary in width - the photos I wanted to use were vertical vs. horizontal so I used five on the left hand side vs. the two shown in the sketch. On the right hand side, I used two vertical photos and one horizontal photo to span the page. My large photo is 5.5 x 3.5.
• I layered my patterned paper with black cardstock
•••••••••••••••••••••••••