•••••••••••••••••
Add-on Sketch #14
You can download and print this sketch by clicking on the add-on sketches link found under the "printable sketches" tab on the right sidebar.
"Celebrate"
by Noey Hunt
Products used
-
Patterned papers:
Cosmo Cricket;
Stamps:
Close to My Heart;
Tools:
Cricut Art Philosophy cartridge
Variation 1:
The biggest change I made for this sketch was swapping out the hearts for circles.
Variation 2:
Instead of layering the large circles, I stamped a scalloped ring around them.
Variation 3:
To make the larger circles pop, I kept the stitching behind them and simplified all of the smaller circles to be a single pattern.
• • • • • • • • • • • • • • • • • • • • • • • • • • • • • •
"Wish"
by Suzanna Lee
Supply List
-
Cardstock:
Bazzill Basics;
Patterned paper and Chipboard:
American Crafts;
Letters:
Jillibean Soup;
Twine:
The Twinery;
Border Sticker and Embellishments:
Making Memories;
Trim:
Crate Paper
Variation #1:
Stars, no hearts today!! As soon as the sketch opened, I knew that I wanted to do this layout with the stars hanging from the moon.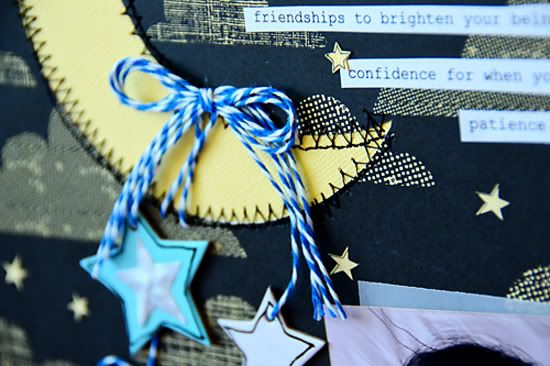 Variation #2:
There are only two strands versus the three in the sketch. Each strand is on twine (per the variations listed). I wanted a little touch of whimsy and so the the twine is rambling down instead of being bolt straight.
Variation #3:
Each of the outer stars is outlined. The stars on the paper are similarly outlined so I mimicked that look. If you look closely, the quote has similar little yellow stars scattered here and there.
•••••••••••••••