•••••••••••••••••
Add-on Sketch #14
You can download and print this sketch by clicking on the add-on sketches link found under the "printable sketches" tab on the right sidebar.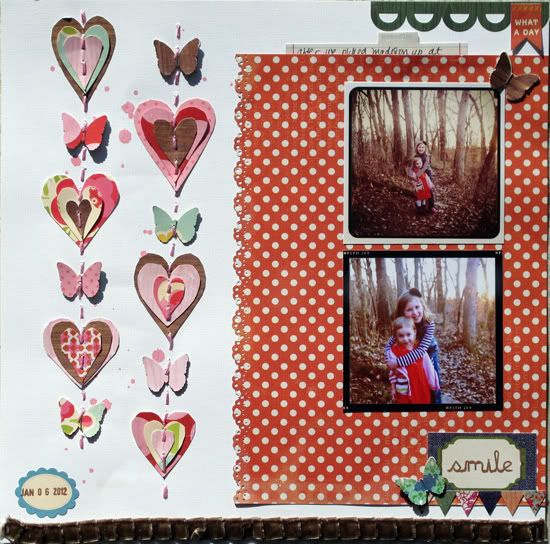 "Smile"
by Christy Arthur
Supply List
-
Patterned Paper:
Lily Bee Design (Head over heels crush), October Afternoon (Sidewalks Marbles and Ring around the rosie), Crate Paper (Peppermint Ski Lodge, Random Curtains), Pink Paislee (Snow Day Snowball Fight);
Embellishments:
Crate Paper (Random Border and Accent Cuts, Farmhouse Alpha Labels), Making Memories (Noel Trims), Lily Bee Design (Memorandum Index Journal Cards);
Tools:
Martha Stewart (Classic Butterfly and Doily Punch), Studio Calico (Smile Stamp), Bazzill In Stitch Floss;
Mist:
Studio Calico (Mister Huey Piglet)
Variation #1:
I added butterflies between the layered hearts on my layout.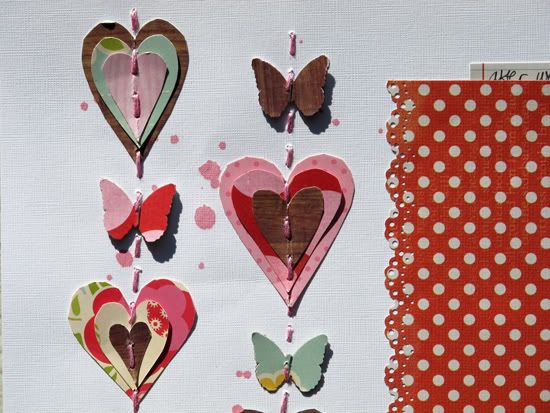 Variation #2:
I layered three different patterns to make the layered hearts.
Variation #3:
I made two rows of the hearts and butterflies, instead of the three in the sketch.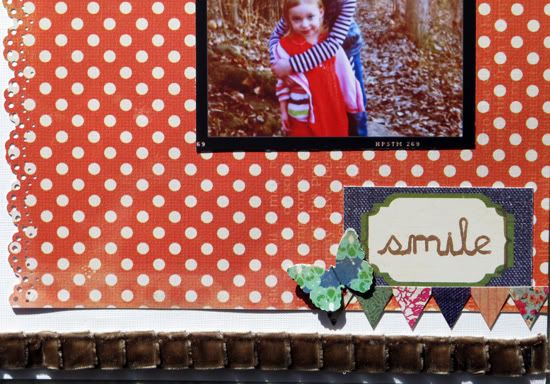 • • • • • • • • • • • • • • • • • • • • • • • • • • • • • •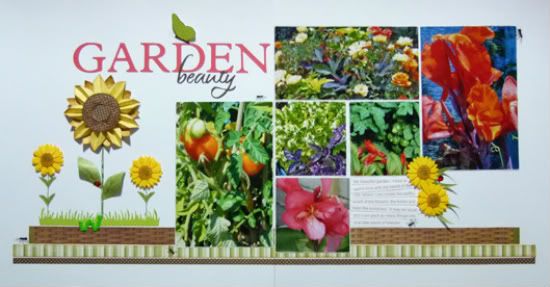 "Garden Beauty"
by Michele Edwards
Supplies
-
Cardstock:
American Crafts, Bazzill;
Patterned paper:
Jillibean, ProvoCraft;
Embellishments:
Recollections (small sunflowers), Jolees (ladybug and ant stickers);
Alphabets:
Cricut (Plantin Schoolbook and Calligraphy Collection);
Ink:
Tim Holz;
Floss:
DMC;
Sketch:
Scrapbook Generation
Every year it happens, the winter blues. I long for the bright sunny days, and for my garden. I confess that I've spend hours looking at the online seed catalogues, planning my next garden!
Variations
1. I used the add-on to embellish a two-page layout.
2. Instead of hearts, I created stems with leaves and flowers. I made an accordian sun-flower, and re-created the swirl in the seeds using string.
• • • • • • • • • • • • • • • • • • • • • • • • • • • • • •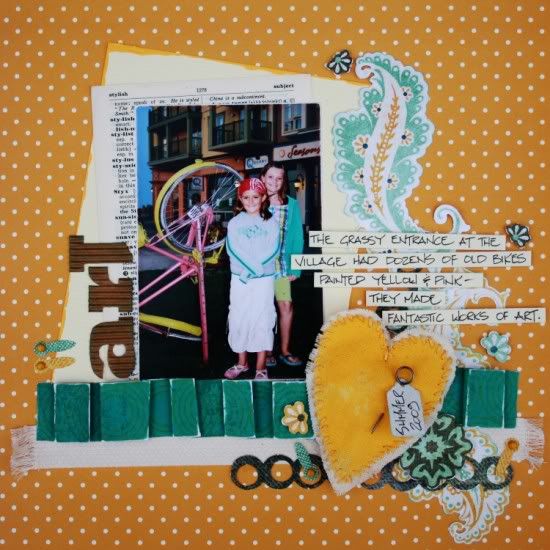 "Art"
by Janette Kincaid

Supplies
-
Cardstock:
Bazzill;
Patterned paper:
Scenic Route;
Accessory Sheet:
My Mind's Eye (Ooh La La-For Him);
Corrugated alphabet:
Jillibean Soup;
Memo Pin:
Tim Holtz;
Distress Ink:
Ranger (Pine Needles);
Adhesive:
Helmar Scrapdots, 450 Quick Dry;
Journal Pen/Marker:
Zig (Black);
Floss:
DMC;
Misc:
ribbon, dictionary paper, canvas, paint, brads


Variation #1
– Rather than repeating the rows of hearts and the straight lines of stitching I took inspiration from the one large heart in the sketch and put it front and center on my layout.
Variation #2
– I added stitching around the outside of the painted canvas heart. It's really a little pillow made with two pieces of canvas stitched together to hold the cotton ball stuffing inside. 

•••••••••••••••••••