•••••••••••••••••••••••••
You can download and print this sketch by clicking on the one-page sketches link found under the "printable sketches" tab on the right sidebar.
One-page Sketch #14 is actually based on a project I made for Sketch Support during Add-on Week last February.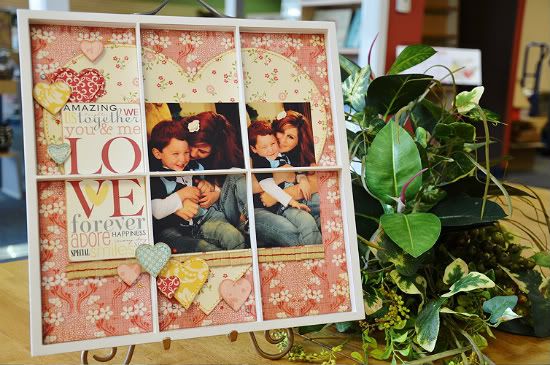 "Love" Photo Tray
by Allison Davis
Supplies
-
4 x 6 Photo Tray:
7Gypsies;
Patterned paper:
October Afternoon, BasicGrey, My Mind's Eye, and Scenic Route;
Jewels:
Kaisercraft;
Embroidery floss:
DMC
Take away the photo tray and it's a one-page layout just begging to be turned into a sketch!
Theme-wise there are many options, of course! Stars and circles would look great with the same design as the hearts.
As for the pictures here are a few options:
• Use two 3 x 4" photos in place of the 4 x 6"
• Use one 3 x 6" photos in place of the two 3 x 3"
• Use a 5 x 7" in place of the 4 x 6" and adjust the papers and pictures as needed.
• Use a 3 x 3" photo in place of half the jouraling.
• Use a 6 x 4" and three 2 x 2" photos in place of all the photos on the sketch.
Check back tomorrow and throughout the whole week to see the different ways our creative team used this sketch!
••••••••••••••••••