•••••••••••••••••
One-page Sketch #18
You can download and print this sketch by clicking on the one-page sketches link found under the "printable sketches" tab on the right sidebar.
"King of Hearts"
by Andrea Friebus
Supply list
-
Cardstock:
Bazzill Basics, Amercian Crafts, Core'dinations;
journaling tags:
Jillibean Soup, Little Yellow Bicycle;
ink:
Clearsnap;
embroidery floss:
DMC;
stickers:
My Little Shoebox;
die cut machine:
Slice, Making Memories;
buttons:
Recollections, TPC Studio;
brad and die cut:
Creative Imaginations;
ribbon:
Queen and Co., Home Shopping Network, Offray, unknown.
Variation #1
- By adding the ribbon snippets to my heart, I had to reduce the heart size and
also the photo sizes. (4x5, 2.5x2.5, 2.5x2.5)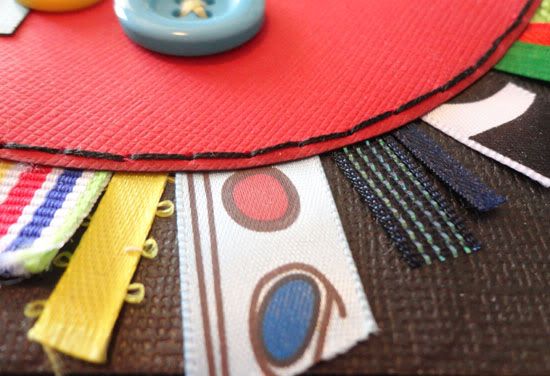 Variation #2
- I changed the heart embellishments to buttons and brads.
Variation #3
- I eliminated the patterned paper strip and stitching shown at the bottom of the sketch and instead matted the photos on solid cardstock and stitched around the heart.
• • • • • • • • • • • • • • • • • • • • • • • • • • • • • •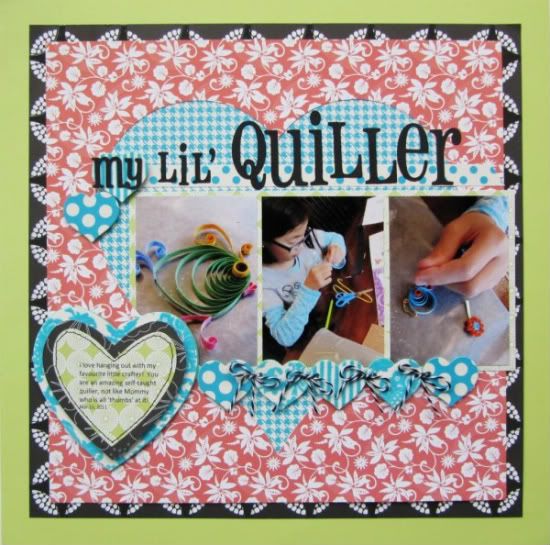 "My Lil' Quiller"
by Virginia Nebel
Supply list
-
Cardstock:
Bazzil;
Patterned paper:
SEI and My Mind's Eye;
Embellishments:
The Twinery;
Diecuts:
Sizzix, Lifestyles Crafts, and Accucut
Variation #1
- I made the photo block smaller to three horizontal 2.5 x 3.5 inch photos and created a heart shaped journal element.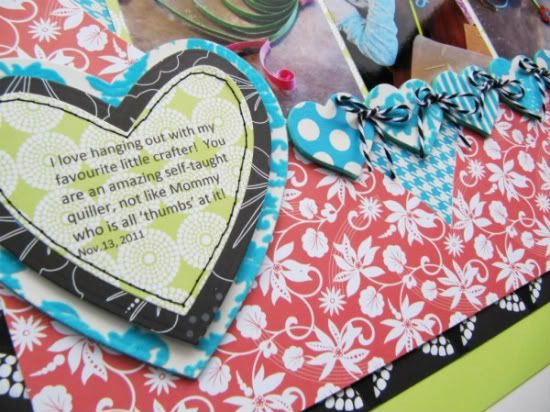 Variation #2
- Instead of randomly positioned hearts I placed them in a row tied together with baker's twine.
• • • • • • • • • • • • • • • • • • • • • • • • • • • • • •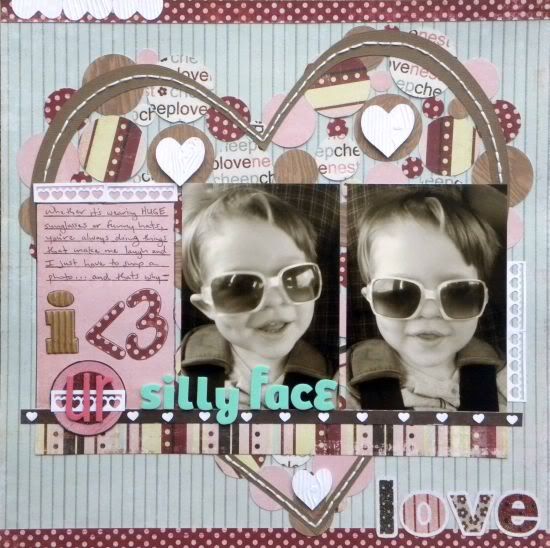 "I <3 UR Silly Face"
by Ashley Horton
Supply List
-
Cardstock:
Bazzill;
Patterned Paper:
My Mind's Eye;
Punches:
Anna Griffin and Marvy;
Embroidery Floss:
Janlynn;
Font:
CK Girly;
Thickers:
American Crafts;
Corrugated Alpha:
Jillibean Soup;
Embossing:
Sizzix and The Paper Studio;
Adhesive:
3L, Zig, and Recollections
Variation #1
- I used two 3.5x5 photos in place of the 4x6 and two 3x3's.
Variation #2
- I changed the size of the journaling block to 3x5.
Variation #3
- I tilted the heart slightly and added circles ranging in size from 1/4 of an inch to 1 1/2 inches inside the outline. Then I cut a large heart outline and added it over the circles and added some white stitching.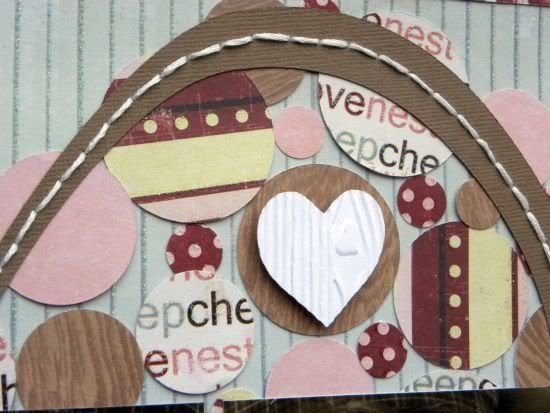 Variation #4
- I moved the title from the top of the page to my journaling block, so it wouldn't cover so much of the heart shape.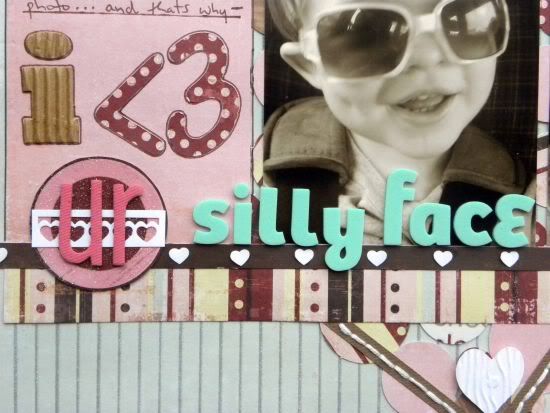 Variation #5
- I added a thin border strip to the top and bottom of the page and also the word "love" at the bottom of the page.
••••••••••••••••••••••••