•••••••••••••
Two-page Sketch #26
You can download and print this sketch by clicking on the two-page sketches link found under the "printable sketches" tab on the right sidebar.
"Bug Catcher to the Rescue"
by Lynette Jacobs
Supply list
-
Cardstock:
Bazzill;
Printed papers:
Echo Park (Victoria Gardens);
Flowers:
Prima, American Craft;
Brads:
My Mind's Eye;
Pearls:
Kaisercraft;
Bling:
Prima;
Punches:
Martha Stewart;
Alphabets:
American Crafts, Paper Trunk, Basic Grey;
Other:
Doilies.
Variation #1:
I replaced the thin strip at the top with the butterfly punched strip.
Variation #2:
I cut my top printed paper squares to 3.75 x 2.75 and backed it with a 12 x 4 strip.
Variation #3:
I used only 4 x 6 photos.
Variation #4:
I replaced the thin strip at the bottom with a swirly doilies punched strip.
Here is a closer look at some of the details: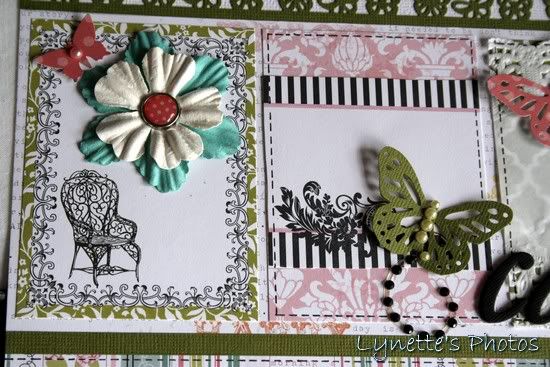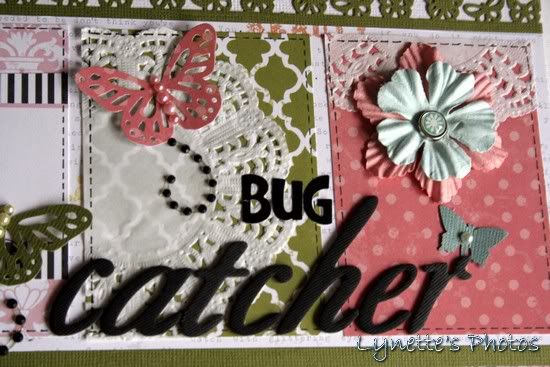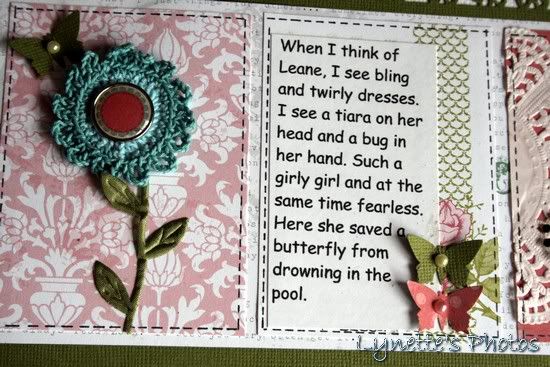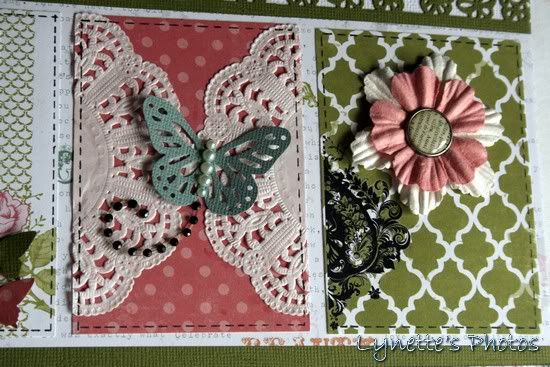 • • • • • • • • • • • • • • • • • • • • • • • • • • • • • •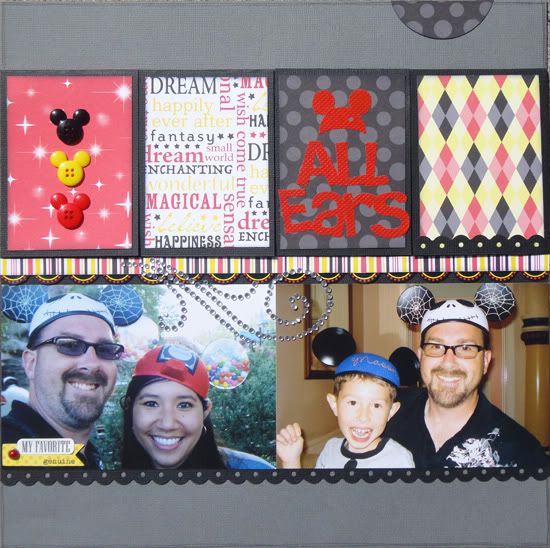 "All Ears"
by Andrea Friebus
Supply list
-
Cardstock:
Amercian Crafts;
patterned paper, buttons, gems, felt, stickers:
Queen & Co.;
ink:
Clearsnap;
word stickers:
EchoPark, Creative Imaginations;
brad:
My Mind's Eye;
border punch:
Fiskars
Variation #1
- My layout is based off of the left side of the sketch, which I followed almost exactly.
Variation #2
- I made each of the rectangle panels flip open, where I was able to include four more photos, journaling, and extra embellishments. I also included some memorabilia from our day at Disneyland—the Photopass card, Autopia driver's license, and a gift card (don't worry—it's empty).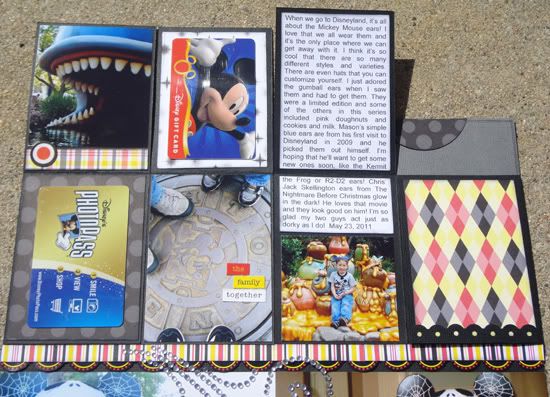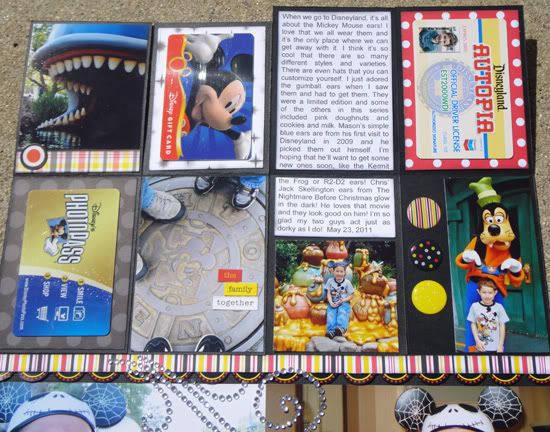 I hid these photos under the panels rather than making a two-page layout because these were the last of the pictures I had printed from this trip and they were all kind of random. Hiding them allowed me to include them instead of keeping them in the leftover photo pile.
• • • • • • • • • • • • • • • • • • • • • • • • • • • • • •
"Fun Times"
by Christine Chain
Supplies
-
patterned paper:
My Mind's Eye (Sweet Caroline), Basic Grey, Echo Park, Cosmo Cricket;
letter stickers:
American Crafts (Thickers), Authentique;
chipboard embellishments:
Bella Blvd;
journaling spot:
My Mind's Eye;
ink:
Tsukineko
Variation #1:
I really toned down most of the embellishments. The patterned paper was busy enough that I didn't want to add too much! I did keep a few of the "label" spots. I also omitted the "word" and just kept my title on the left.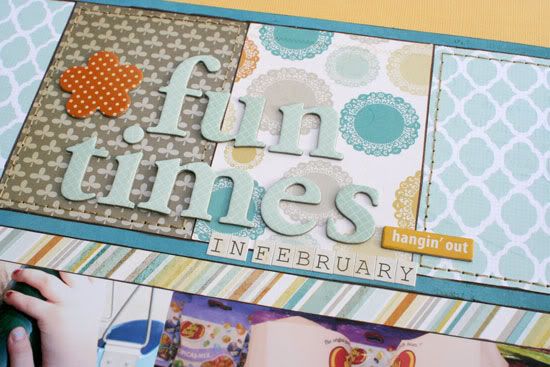 Variation #2:
For my journaling block, I cut a calendar journaling spot in half (and kept the rest to use later), inked the edges, and overlapped two of the areas.
••••••••••••••••••