•••••••••••••
Two-page Sketch #26
You can download and print this sketch by clicking on the two-page sketches link found under the "printable sketches" tab on the right sidebar.
"Tobin's First Birthday Party"
by Noey Hunt
Products used
-
Patterned papers and stickers:
TPC Studios;
Letters:
American Craft (Thickers), Making Memories (glitter);
Tools:
Cricut Robotz cartridge
Variation 1:
I changed up the photos sizes some. I swapped out two of the horizontal 4x6 photos for another square photo, vertical photo, and small accent photos.
Variation 2:
I kept all of the paper arrangements the same, but I dropped many of the embellishment details like stitching because my papers and photos were already busy.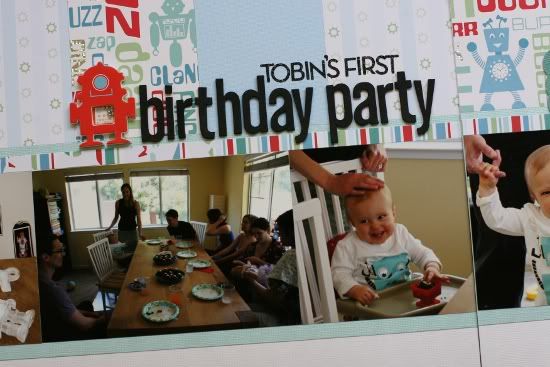 Variation 3:
I added a giant robot! For my son's party, I cut out about 10 unique robots as large as I could with 12 x 12 paper and used them to decorate the window at the party. I simply had to squeeze one of these robots onto the scrapbook layout for the party
• • • • • • • • • • • • • • • • • • • • • • • • • • • • • •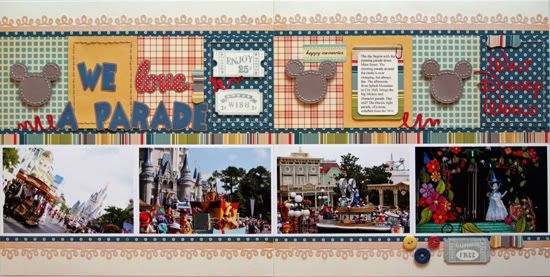 "We Love a Parade"
by Penny Grimsley
Supplies
-
Cardstock:
Bazzill;
Patterned paper:
October Afternoon;
Alphabets:
Silhouette Die Cutting Machine;
Embellishments:
October Afternoon, Tim Holtz;
Punches:
Martha Stewart, Stampin' Up;
Ink:
Jenni Bowlin;
Embroidery Thread:
DMC;
Fonts:
Pacifico, Minnie, Waltograph;
Stamp:
Unity Stamp Company
Variation #1
- I changed the photo blocks by making them all 4x6.
Variation #2
- I added a border punch on the top and bottom.
Variation #3
- I punched the borders of the patterned paper and then stitched along the edges for emphasis.
Variation #4
- I made a journaling card to hold the journaling.
Variation #5
- I changed the heart to a Mickey Mouse head. The minute I saw this sketch, I saw Mickey Mouse heads instead of hearts!
Variation #6
- I added the tickets to carry out the amusement park theme.
Variation #7
- I swapped the tiny hearts with buttons to reinforce my theme.
•••••••••••••••••••