•••••••••••••
Two-page Sketch #26
You can download and print this sketch by clicking on the two-page sketches link found under the "printable sketches" tab on the right sidebar.
"Let's Play Ball Mom!"
by Katrina Hunt
Supplies
-
Patterned Paper, Stickers, and Die Cuts:
Nikki Sivils, Scrapbooker (Noah Collection);
Stamps:
Unity Stamp Co. (S.M.A.K Jan. 2012);
Ink:
Jenni Bowlin (Spice Tin and Chili Powder);
Adhesives:
Scotch and Scrapbook Adhesives;
Tools:
Silhouette Cameo with Silhouette files, Martha Stewart Border Punch
Variation 1
- Switched the pages from right to left.
Variation 2
- Moved the pictures on the right page up to the top of the page.
Variation 3
- Added pictures (sized 2.5 x 3.25") in the rectangles on both sides.
Variation 4
- Moved title down to bottom in the middle of the right page.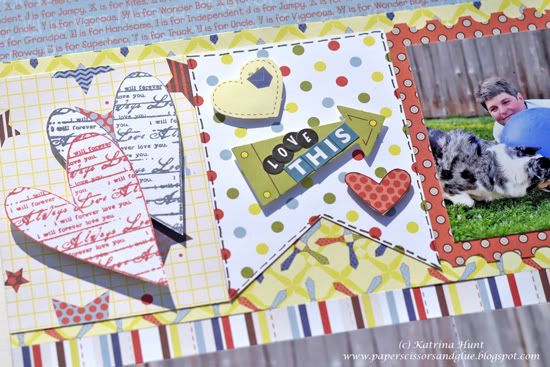 • • • • • • • • • • • • • • • • • • • • • • • • • • • • • •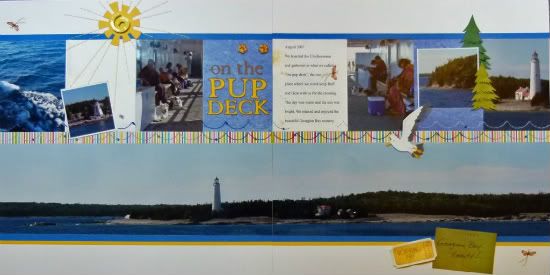 "On the Pup Deck"
by Michele Edwards
Supplies
-
Cardstock:
Bazzill;
Patterned paper:
Authentique, Bella Blvd;
Embellishments:
Jolees (seagull, trees and pawprints), Kaisercraft (ticket), Susan Branch (mayflies);
Alphabets:
Cricut (Plantin Schoolbook);
Floss:
DMC; Beads: unknown
This is such an incredible sketch, I'll use it again and again. These pictures were taken from the deck of the HMS Chicheemaun as we crossed beautiful Georgian Bay.
Variations
1. In this layout I stayed true to basic sketch, but combined all the photos across the middle of the layout into one long panoramic picture of Georgian Bay.
2. I used 3X4" photos in place of some of the rectangles across the top.
3. I stitched a double wave across the middle of the layout. I inserted blue glass beads randomly across the page to add sparkle to the waves.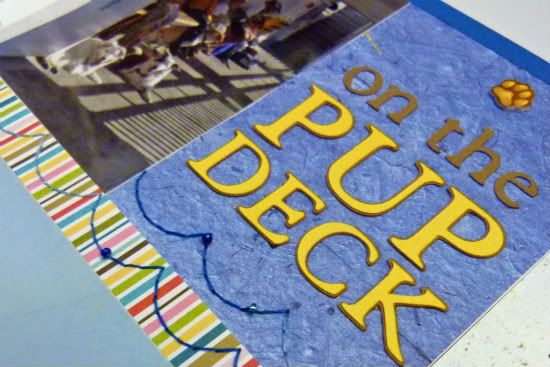 4. I moved the title into one of the 3X4" rectangles.
•••••••••••••••••••