•••••••••••••••••
Card Sketch #18
You can download and print this sketch by clicking on the card sketches link found under the "printable sketches" tab on the right sidebar.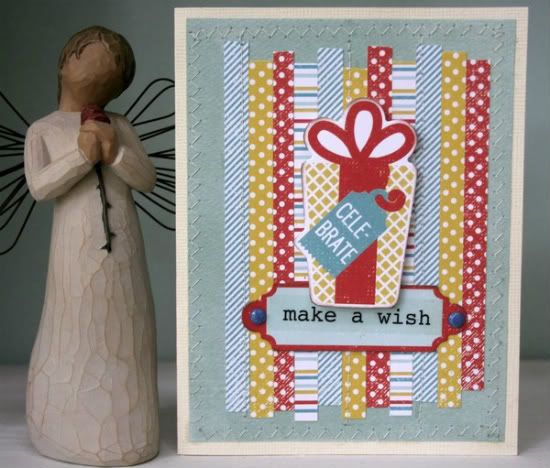 "Make a Wish" by Lynette Jacobs
Supply list -
Cardstock:
Bazzill;
Printed papers:
Bo Bunny (square), My Minds Eye (Hip Hooray Boy);
Gift diecut and tag:
(My Minds Eye, Hip Hooray Boy);
Brads:
Upikit.
Variation #1:
The card and background square is slightly larger than the sketch.
Variation #2:
I zigzagged around my background square.
• • • • • • • • • • • • • • • • • • • • • • • • • • • • • •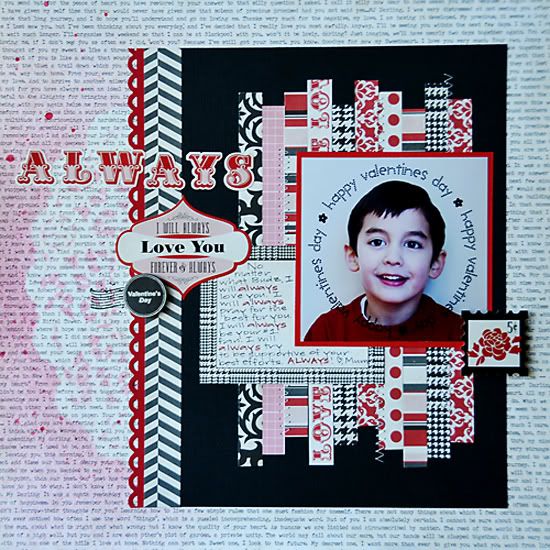 "Always"
by Suzanna Lee
Supply List
-
Cardstock:
Bazzill Basics;
Patterned paper, Stickers and Alpha Stickers:
EchoPark;
Ink:
VersaFine (Tsukineko);
Stamp:
Unity;
Mist:
Smooch;
Digital Element:
Self-made
Variation 1:
Clearly, this is a layout and not a card. Clearly, not surprising that I automatically saw a layout when I saw the sketch! You know me, you know my aversion to cards!
Variation 2:
My vertical strips are a 1/2 inch wide as that was better suited to the layout width. Instead of straight stitching, I used a zig zag stitch.
Variation 3:
The message block became my journaling block. Not wanting to cover my picture, the journaling block is semi-tucked behind the picture instead.
Variation 4:
The square is my picture. I wanted to highlight the picture against the busy background and so chose to mat the picture.
Variation 5:
I have a splattering of elements here and there instead of the trio of butterflies.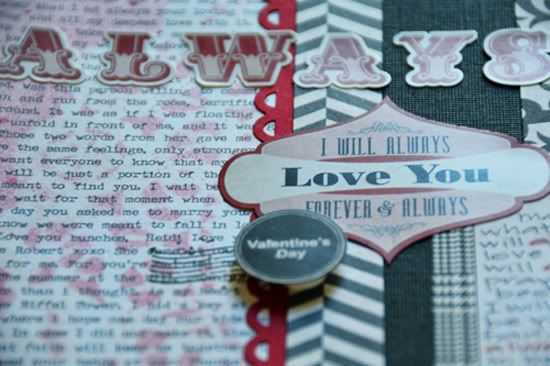 ••••••••••••••••••••