••••••••••••••
Add-on Sketch #17
You can download and print this sketch by clicking on the add-on sketches link found under the "printable sketches" tab on the right sidebar.
It is time again for our
Nikki Sivils, Scrapbooker
Product Challenge!
In case you missed the product challenge details, Nikki Sivils provided a collection kit to each member of our Creative Team. Each had the choice between the four newest collections - Noah, Audrey, Exit Here, and Messages. Together with the May sketches we will show you how using the same products and even the same sketches can produce so many different results.
They are also featuring our sketches this month on the
Nikki Sivils, Scrapbooker blog!
You'll definitely want to go check out how their talented team used the sketches from our two newest books!
Since it is Add-on Week, all of the projects posted today for the product challenge are based on the May add-on sketch.
Exit Here Collection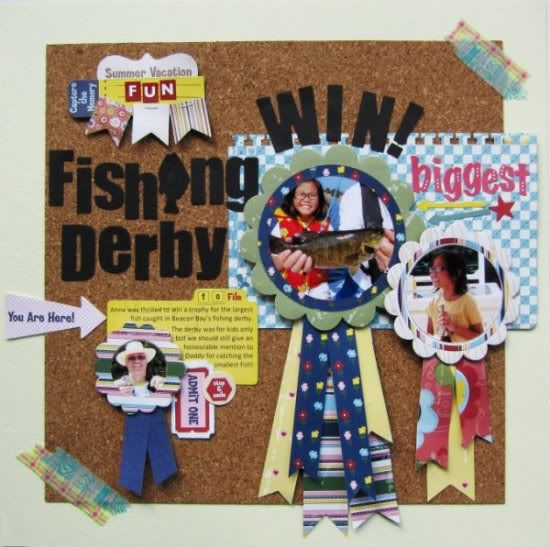 "Fishing Derby Win!"
by Virginia Nebel
Supply list
-
Cardstock:
Bazzill;
Patterned paper:
Nikki Sivils;
Diecutting:
Lifestyles Crafts, Accucut;
Washi Tape:
Hambly, Recollections;
Cork:
Karen Foster
Variation #1
- I created three different sizes of award ribbons to frame my photos. I used thin cork to create a casual bulletin board look for the page.
• • • • • • • • • • • • • • • • • • • • • • • • • • • • • •
Noah Collection
"Student of the Month"
by Allison Davis
Supplies
-
Cardstock:
Bazzill;
Patterned paper, cut outs, die cuts:
Nikki Sivils, Scrapbooker;
Alphabet stickers:
Nikki Sivils Scrapbooker (student, month) and Cosmo Cricket (of, the, drew)
Variation #1
- I added a few more pieces to the award ribbon embellishment. I started with a green and blue ribbon from the Nikki Sivils cut out sheet. Then I added two more circles to layer the cut out on and more ribbon pieces hanging down.
• • • • • • • • • • • • • • • • • • • • • • • • • • • • • •
Giveaway Time!
Today we've got a giveaway for an Audrey Collection Pack from Nikki Sivils, Scrapbooker and a copy of Sketches for Scrapbooking, volume choice is all yours.
To be eligible, leave a comment on this post. We'll randomly select a winner and post it on Sunday.