••••••••••••••
Add-on Sketch #17
You can download and print this sketch by clicking on the add-on sketches link found under the "printable sketches" tab on the right sidebar.
"Little Hitch Hiker"
by Ashley Horton
Supply List
-
Sketch:
Scrapbook Generation One-Page Sketches;
Cardstock:
The Paper Studio and Bazzill;
Patterned Paper, Stickers and Cut Outs:
Nikki Sivils;
Smash Tape:
K&Company;
Baker's Twine:
The Twinery;
Rubber Charms:
October Afternoon;
Buttons:
Michael's;
Embroidery Floss:
Janlynn;
Font:
CK Going Places
Variation #1
- I turned the add on upside down.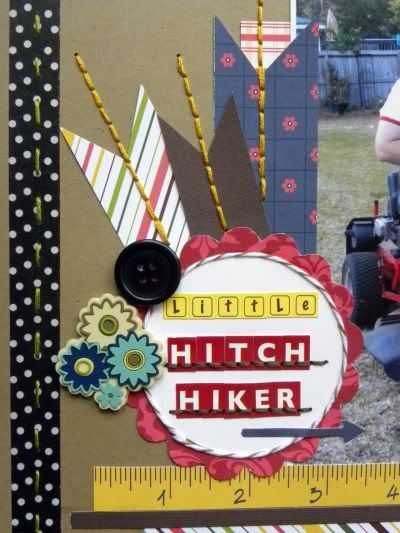 Variation #2
- I decided this would make a great spot for my title, so I used the Nikki Sivils letter stickers and added some stitching.
Variation #3
- I added stitching to each of the banner pennants.
••••••••••••