••••••••••••••••••••••••••••••••••••••••
A sketch is a sketch. It's that simple. We can call them by a particular name like one-page, two-page, card, etc. but really, when it boils down to it, it's just a sketch. I don't ever let the type of sketch limit where my creativity goes. You can probably guess what today's post is all about. If not here's a hint: Just because it's a card sketch doesn't mean it has to be used for cards.
Card Sketch #2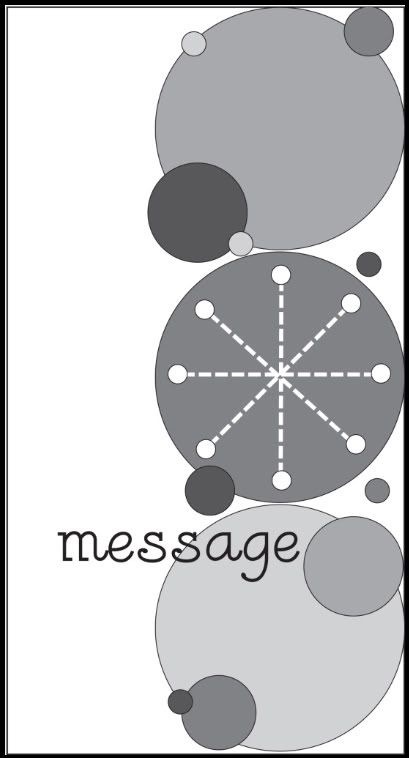 You can download and print this sketch by clicking on the card sketches link found under the "printable sketches" tab on the right sidebar.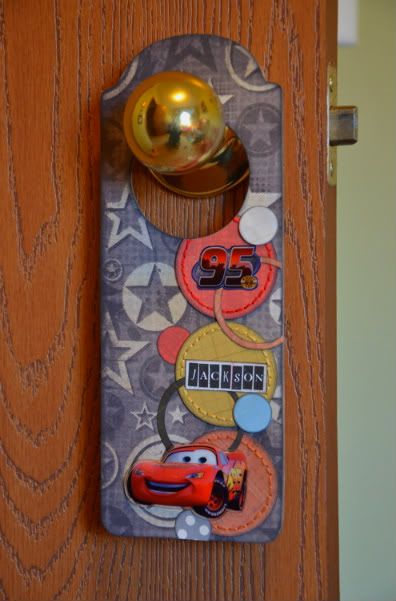 Cars door hanger by Allison Davis
Supply list - Patterned paper: We R Memory Keepers and Crate Paper; Cars stickers: Creative Imaginations, Embroidery floss: DMC; Other: wooden door hanger
My youngest son Jackson is a Lightning McQueen fanatic and lately I've been adding some fun Cars decorations to his room. I thought a personalized door hanger would be a great addition to his room and this card sketch seemed like a good fit.
Variation #1 - I used three smaller circles in place of the three larger on the sketch.
This is one of those projects that I had an idea in my head and then it completely flopped. I started off thinking I would do three larger circles just like the sketch. However, when I got to the top half of the door hanger, once I trimmed off the excess circle inside the hole that hangs on the door, it just looked strange. You couldn't even tell that it was a circle anymore.
I didn't want Lightning McQueen to get lost in too many patterns and colors so I kept all the circles simple and plain with solid color patterns.
Variation #2 - I added hand-stitching around the edges of the circles.
Variation #3 - I replaced the message on the sketch with Lightning McQueen and then added Jackson's name to the center circle and Lightning McQueen's number 95 to the top circle.
"My 1st Christmas" by Noey Hunt
Supply list - Patterned paper: The Paper Studio (black ornament and "Merry Christmas") and Jillibean Soup (Kraft snow flake); Lace: Making Memories; Candy canes: SEI; Stamp: Hero Arts (reindeer); Glitter Accent: Stickles, Ranger; Tools: Cricut, ("1st" Lyrical Letters cartridge, Loop de Loo feature, "Christmas" and "my" Lyrical Letters, Connected feature)
As soon as I saw these photos printed out, I knew they would look great cut into circles and Allison's card sketch had the perfect arrangement for them.
I took three major inspiration points from the sketch. The photo shape and placement, stitching, and the message or title placement. I also decided to create a triangle with the title and embellishments to draw attention to my favorite of the 3 photos.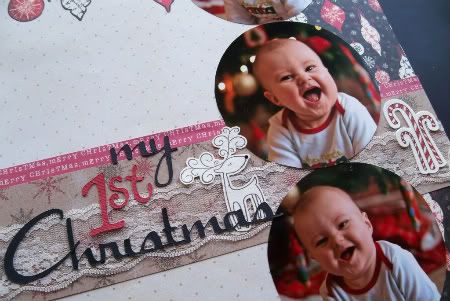 I used the stitching to hang ornaments along the top to continue the Christmas feel and also because Tobin just loved all the ornaments on the tree. I had fun leaving all the papers and accents in muted, retro tones so that the photos, with their full color, really pop.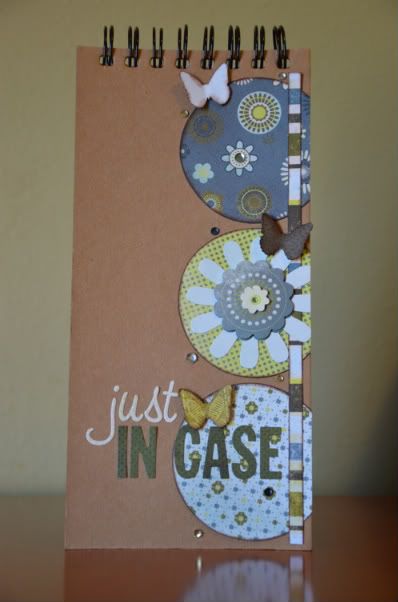 "Just in Case" mini album
by Allison Davis
Supply list - Envelope album: 7Gypsies; Patterned paper: BasicGrey; Alphabet stickers: BasicGrey; Flower stickers and embellishments: BasicGrey; Butterfly punch: Martha Stewart; Jewels: KaiserCraft; Word stickers: BasicGrey and Creative Imaginations
I remember a few months after Jackson was born I went through this terrible stage of worrying constantly that something was going to happen to me and that my boys would never know me or how important they were to me. It was almost like I was so happy that I was just waiting for something bad to happen. Drew was only three and Jackson was three-months-old. What if something really did happen and they never knew how I truly felt about them? That's when I came up with my "Just in Case" album. The one you see here is the second edition.
Each page of the album is actually an envelope and each page/envelope is dedicated to a person in my life that is important to me. Inside each envelope is a letter to that person with all the things I want them to know about how I feel about them. It's my just in case something ever happened to me album.
The reason I made a second edition is over the years feelings change. They grow stronger, you discover things you love about someone close to you everyday, and learn more about your relationships with others as you get older and wiser. If it's possible I love my children more everyday and I want to make sure they know that whether I'm here to show them or not. And coming from someone who has lost a parent, I know that I would love to have something like this from my dad.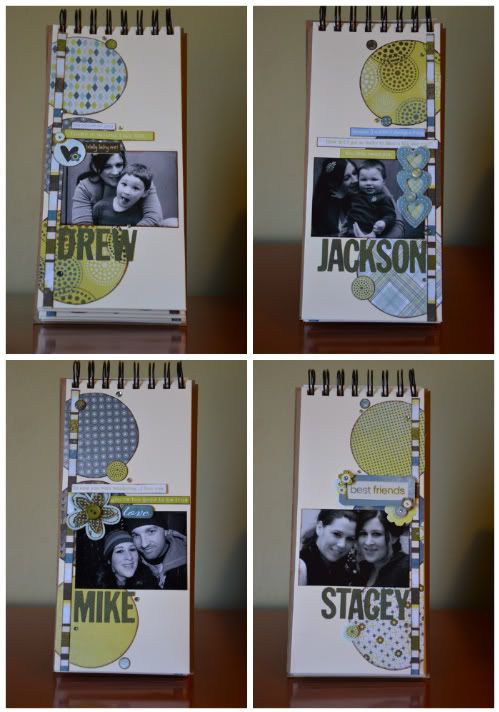 Variation #1 - I'm about 90% sure that stripes are my favorite pattern. In just a tiny strip it can add so much to a project. I find it quite difficult to make something without a stripe on there somewhere. That's why I add a 1/4" striped strip to the outer edge of the pages.
Variation #2 - In place of the message on the sketch, I added names, pictures, word stickers, and embellishments.
Variation #3 - I used the sketch for the cover and the inside pages. To mix up the look a little I flipped the sketch from left to right on the pages.
BasicGrey giveaway winner
The winner of the BasicGrey Hopscotch giveaway is:
TerriB said...
I love the new site and all of the variations on one sketch. It is nice to see all of the different options that one sketch can provide.
Congrats TerriB! Send me your shipping information at allison@scrapbookgeneration.com and we'll have that awesome giveaway package on it's way to you.
•••••••••••••••••••••••••••••••••••••••••••