•••••••••••••••••••••••••••
Since this sketch has so many photos and because they are all grouped together in one big block, there are endless photo combinations you can use. This sketch is one of those that is easy to adapt to anything: whatever picture sizes, amount, or orientation you have. You've got to love that!
Today the four layouts below show some great photo combinations including larger photos, vertical photos, and smaller photos.
One-page Sketch #3
You can download and print this sketch by clicking on the one-page sketches link found under the "printable sketches" tab on the right sidebar.
"Super Birthday"
by Shari Thurman
Supply List
-
Pattern paper:
Creative Imaginations and Echo Park;
Stickers:
Sandy Lion;
Alphabet Stickers:
American Crafts;
Brads:
Joann Craft Essentials;
Journal tag:
Elle's Studio;
Cardstock:
Stampin' Up;
Other:
machine stitching
The wonderful thing about this one-page sketch is that is allows for so many photos, which is great for those of us that take so many pictures. For this layout I cropped four of my pictures to 3" x 4" and used a 4" x 6".
I moved my journaling to the top left and embellished with stars along the top. I placed my title at the bottom and added Superman stickers to embellish the title.
Hayden went through a phase where he wore his superman cape around the house and pretended to be Superman, which was kind of funny considering he had never seen the movie. One of his favorites from his party was a Superman birthday card that played the Superman theme song. He carried it around with him for days.
• • • • • • • • • • • • • • • • • • • • • • • • • • • • • • • • • • • • • • • • • • • • •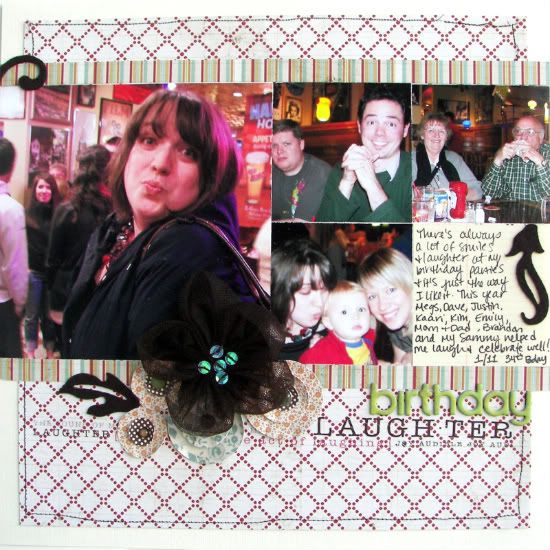 "Birthday Laughter"
by Melissa Elsner
Supplies
-
Cardstock:
Bazzill Basics Paper;
Patterned Paper,
flower, rub-ons:
Lily Bee Design;
Brads:
American Crafts, Basic Grey;
Chipboard Alphabet:
Basic Grey;
Felt:
Adornit;
Circle Punches:
EK Success
Variation #1:
I used one large 6" x 6" photo instead of the two 3" x 3" and 6" x 3" photos.
Variation #2:
Everything else is pretty true to the sketch as far as where the embellishments are located. I did choose to add a couple more to the journal spot and above the large photo. I just felt like it helped balance out the layout and incorporate the rule of threes with design. This sketch was so much fun that I didn't want to go too far off the map with it.
"Look at my Bundle"
by Suzanna Lee
Supply list
-
Cardstock:
Coredinations;
Patterned paper:
Crate Paper and Creative Imaginations;
Rubber Charms;
October Afternoon;
Letter Stickers:
Sassafrass, KI Memories, My Little Shoebox, and Jillibean Soup;
Butterflies:
Prima;
Border:
Making Memories;
Stickers:
Crate Paper;
Die:
Sizzix;
Rub Ons:
American Crafts;
Embroidery floss:
DMC;
Scallop scissors:
Heidi Swapp;
Other:
Mulberry Paper
• • • • • • • • • • • • • • • • • • • • • • • • • • • • • • • • • • • • • • • • • • • • •
"Rock Star in Training"
by Amy Roller
Supplies
-
Patterned paper:
BoBunny, My Minds Eye;
Cardstock:
Stampin up;
Glitter:
Doodlebug;
Embroidery floss:
DMC;
Other:
staples
The overall design is similar to the sketch with exception of the photo sizes and the placement of the photo block. It is more centered rather than being higher up like the sketch. I needed a little extra room for the changes I would be making.
On this sketch I knew what pictures I wanted to use but I had too many to be able to use the sizes provided. Instead I made them all wallet size with exception of the main focal photo, it is just under a 4" x 6".
Because the pictures are smaller, they follow a slightly different arrangement across the page. Due to this, I could allow the journal area to take the place of another picture and fill in the entire right side of the sketch instead of the smaller allotted journal area.
I also decided to use the ribbon/zipper embellishment strips in place of the striped paper strips above and below the picture area. I attached these with mini staples.
Instead of hearts I used stars and embellishment stickers that coordinated with my papers. I also added a subtitle around the largest picture to fill in some of the white space. I then added a blue distressed transparency border over my journal area and added a few other stars to help fill in the larger space.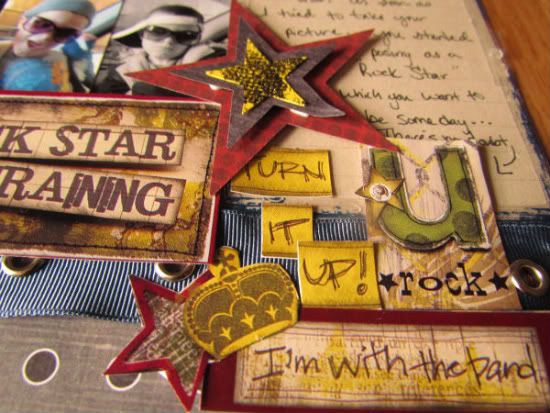 On the yellow stars I ran a dot adhesive over them and then sprinkled black glitter over it to add a grunge look to them.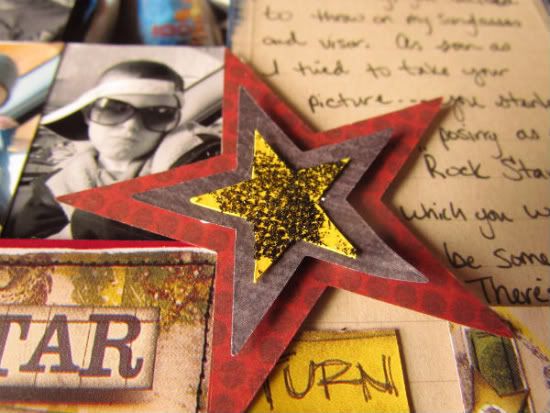 Last, I stitched a black border like the sketch and added a few zig-zag spots along the edges.
•••••••••••••••••••••••••••••••••