Another great use for this sketch is to use it on a layout. This cupcake sketch was just what I needed to embellish a page about my new found love for making mini-cupcakes.
Add-on Sketch #3
You can download and print this sketch by clicking on the add-on sketches link found under the "printable sketches" tab on the right sidebar.
"My Mini Cupcake Obsession"
by Allison Davis
Supplies
-
Cardstock:
Bazzill;
Patterned paper:
My Mind's Eye;
Alphabets:
Making Memories (my) and American Crafts (mini, cupcake, obsession);
Stickers:
My Mind's Eye and Jolee's;
Chipboard (banner):
My Mind's Eye;
Border punch:
Fiskars;
Journaling piece:
Making Memories;
Embroidery floss:
DMC
I followed all the measurements on the sketch to create my cupcake. I used the same patterned paper for each circle and added hand stitching to the "wrapper". Instead of using a cherry on the top I decided to add little sprinkles to mine to somewhat mimic the cupcakes in the pictures.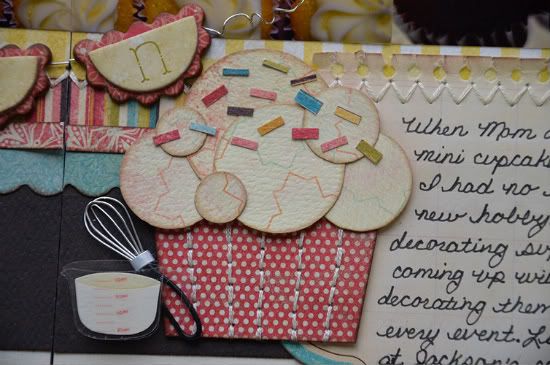 A super easy way to make sprinkles: cut a 1/4" strip of a stripe and then cut each individual color for the sprinkles.
•••••••••••••••••••••••••••••••••••••••••