•••••••••••••••••••••••••••••
After staring at my sad, plain, undecorated kitchen I thought that maybe, just maybe, if I made some fun decor for the kitchen I would want to spend more time in there. I love baking and if I had the time I would do it all the time. Everyday cooking, not so much. This cupcake sketch was just what I needed to create a frame and add a little cuteness to my kitchen.
Add-on Sketch #3
You can download and print this sketch by clicking on the add-on sketches link found under the "printable sketches" tab on the right sidebar.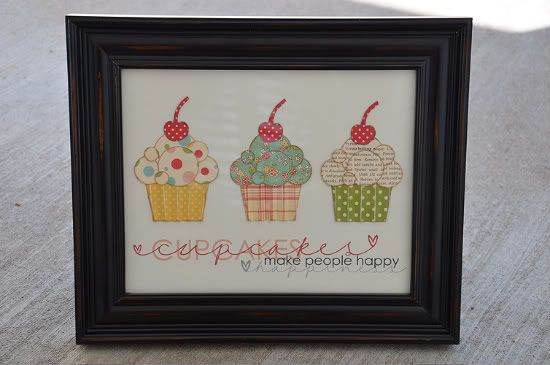 "Cupcakes Make People Happy"
frame by Allison Davis
Supplies
-
Cardstock:
Bazzill;
Fonts:
CK Carolyn (cupcakes, happiness) and Century Gothic (cupcakes, make people happy);
Patterned paper:
October Afternoon;
Frame:
unknown
I stayed pretty true to the sketch for this project. The measurements are all the same as suggested on the sketch. The only thing I changed was the "wrapper". Instead of adding hand stitching to it, I folded pleats in it and then sanded the tops of them to expose the white core.
What appears to be wrinkled paper in the frame is actually the reflection of the striped shirt I was wearing when I took the pictures. Not getting a glare on the glass was a challenge!
Here's a closer look: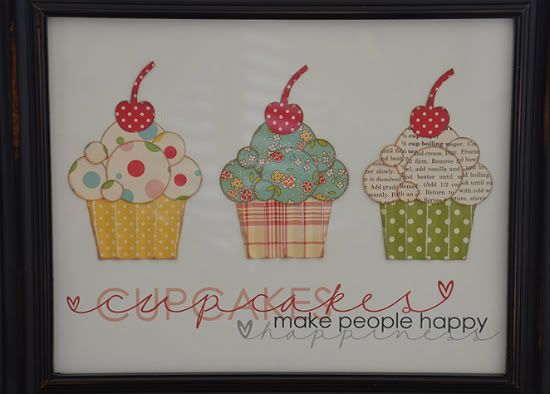 I wish I could remember where I first saw the "cupcakes make people happy" quote. I remember reading it and thought that is so true!
I created the cupcake quote with a combination of two of my favorite fonts. The font that I used for "cupcakes" and "happiness" didn't come with the hearts on the ends. I added those to the tail of the letters myself for a fun little finishing touch.
•••••••••••••••••••••••••••••