•••••••••••••••••••••••••••••••••••••••••••
It always amazes me how several people can look at the same sketch and everyone comes up with something completely different. With the add-on sketches, maybe you add your own finishing touches, make it a different size to fit the project you are working on, or you have a different plan for putting everything together. Maybe you end up with a project that didn't follow the sketch at all but instead used the sketch as the spark to ignite an idea.
The three projects today all used the add-on sketch more for inspiration instead of looking at the sketch as a guide.
Add-on Sketch #3
You can download and print this sketch by clicking on the add-on sketches link found under the "printable sketches" tab on the right sidebar.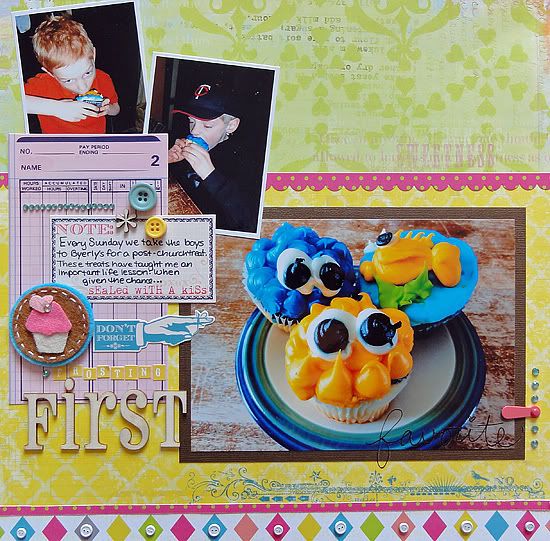 "Frosting First"
by Jennifer Larson
Products
-
Patterned paper:
Pink Paislee;
Alphabet stickers:
Cosmo Cricket;
Die cuts:
Pink Paislee;
Wood Letters:
Pink Paislee;
Buttons:
My Mind's Eye;
Gems:
My Mind's Eye;
Punch:
EK Success;
Cupcake sticker:
Maya Road;
Button brads:
Making Memories;
Photo turn:
American Crafts;
Pen:
Zig
1. This sketch made me think of two things: our Sunday tradition of stopping for sweets after church, and these unused cupcake stickers. I decided to make a page about that tradition. It morphed into this page about how my boys eat their cupcakes!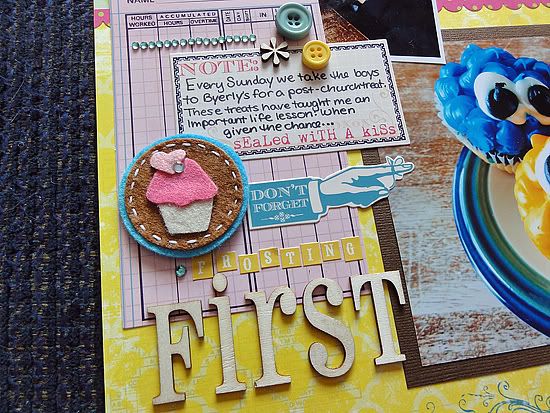 2. I had no photos of our Sunday cupcakes, so I did something any scrapbooker would understand: I bought some cupcakes, gave them to my boys, and took some photos!
3. The patterned paper that said "Sweetness" seemed perfect for this page, especially paired with the new Pink Paislee line Daily Junque. Lots of frill and super sweet colors--just like cupcakes!
• • • • • • • • • • • • • • • • • • • • • • • • • • • • • • • • • • • • • • • • • • • • •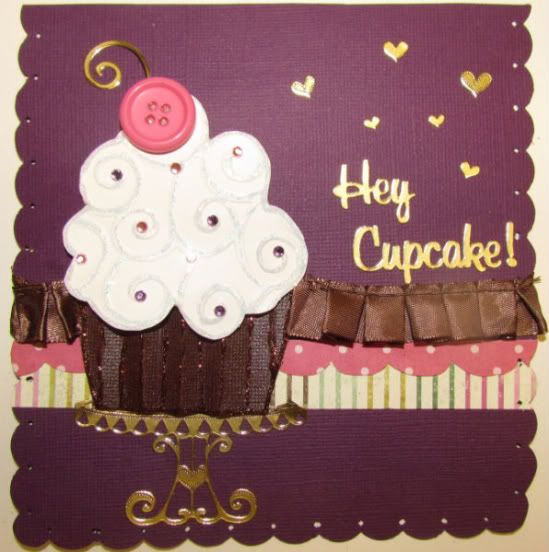 "Hey Cupcake!" card
by Amy Roller
Supplies
-
Cardstock:
Shimmer Bazzill, Shimmer White-Stampin UP!;
Patterned Paper:
My Mind's Eye;
Dazzles(cupcake stand, sentiment, hearts):
Hot off the Press, Paper Wishes Stickles, Rhinestones,
Button:
unknown
For this sketch I didn't follow the measurements for the cupcake because I needed it to fit on the "stand" on my card.
I started with a card base and I added a few strips of layered patterned paper and a brown ruffled ribbon across the front. Then I adhered the gold cupcake stand.
For the base of the cupcake I used cardstock that I folded to make the cupcake liner creases. I then ran the white cardstock through my Cuttlebug embossing folder and somewhat followed the natural curves to cut out the top of the cupcake.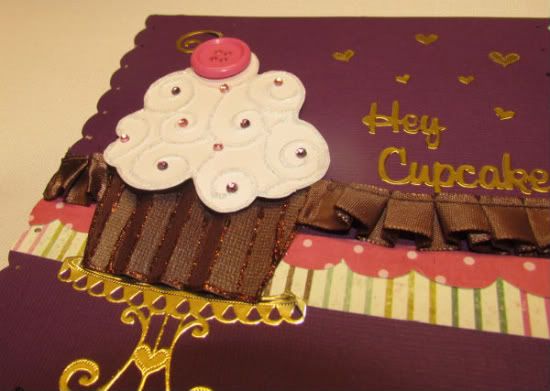 I popped both of these up and then embellished them. I added brown Stickles to the liner and white Stickles and a few pink and purple rhinestones over the top of the icing. To top it off, I added a gold stem to the "cherry" which is a pink button.
Off to the right is my sentiment "Hey Cupcake!" and a sprinkling of hearts! Last, I used a border punch along all the edges of the card with the exception of the top where it folds.
• • • • • • • • • • • • • • • • • • • • • • • • • • • • • • • • • • • • • • • • • • • • •
"Turning Four"
by Suzanna Lee
Supplies
-
Patterned paper:
SEI, Little Yellow Bicycle, Heidi Grace, and Jillibean Soup;
Flocked paper:
Doodlebug;
Alphabet Stickers:
Cosmo Cricket and American Crafts;
Ribbon:
Recollections, Heidi Grace, and American Crafts;
Bling:
Prima and misc (pink circle);
Journal Spot:
Jillibean Soup;
Buttons:
Favorite Findings and Purple Pumpkin;
Flowers:
Prima and Martha Stewart;
Punches:
Martha Stewart and Fiskars;
Embroidery floss:
DMC;
Other:
doily, beads, and ticket
You can see the complete layout on Suzanna's blog by
clicking here.
••••••••••••••••••••••••••••••••••••