••••••••••••••••••••••••••••••••••
At first glance the add-on sketch might seem a little limiting because it's a cupcake, but a cupcake is not the only thing you can use this sketch for. On the two projects below I used the general shape of the cupcake as inspiration and created two embellishments that can open new doors of where this sketch can take you.
Add-on Sketch #3
You can download and print this sketch by clicking on the add-on sketches link found under the "printable sketches" tab on the right sidebar.
"Hello" card
by Allison Davis
Supplies
-
Cardstock:
Bazzill (white card base) and Core'dinations (flower pot);
Patterned paper:
Glitz Designs;
Flowers:
Prima;
Alphabet stickers:
Doodlebug;
Embroidery floss:
DMC;
Ribbon:
unknown
The cupcake sketch was easily converted into a flower pot with two simple adjustments.
1.
I cut the width a 1/2" smaller. This was mainly to fit the flowers I wanted to use with the flower pot. You could use the same width as the sketch and use flowers that fit that size.
2.
The finishing touch that really made it look like a flower pot is the small strip added to the top.
• • • • • • • • • • • • • • • • • • • • • • • • • • • • • • • • • • • • • • • • • • • • •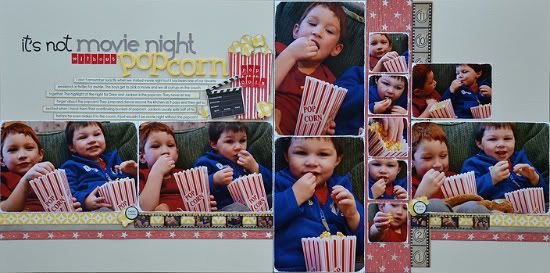 "It's Not Movie Night Without Popcorn"
by Allison Davis
Supplies
-
Cardstock:
Bazzill;
Patterned paper:
BasicGrey, October Afternoon, My Mind's Eye, and Fancy Pants;
Alphabets:
Doodlebug, KI Memories, American Crafts, and My Little Shoebox;
Chipboard:
BoBunny;
Border punch:
EK Success;
Film strip ribbon:
Tim Holtz;
Border strip:
Graphic 45;
Epoxy stickers:
unknown;
Embroidery floss:
DMC
For this layout I converted the add-on sketch into a bucket of popcorn. Just like the flower pot, it took only two small adjustments.
1.
I cut the "bucket" with a bigger length. I could have used the same length as the cupcake sketch but I wanted to mimic the tall, skinny buckets of popcorn my boys have in the pictures.
2.
I used a scallop punch to create the same scallops on the top edge of the bucket as in the pictures.
I added some hand stitching in between the red stripes on the bucket and finished it with pieces of popcorn that I drew and cut out of yellow patterned paper.
(The next part doesn't really have anything to do with the add-on sketch but I thought I would share it too.)
When I planned this layout I knew that I would be using the Tim Holtz film strip ribbon somewhere on my layout. I was ordering my pictures online when I realized that they have the option of getting an index print. (a 4 x 6 piece with super small images of the photos you ordered) I was hoping they would be the perfect size to fit in the windows of the film strip ribbon. I was so happy to find that they did!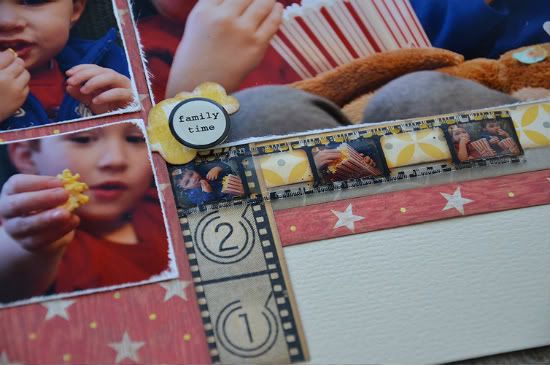 They may be teeny tiny pictures but I love that I was able to customize the ribbon to fit my layout.
••••••••••••••••••••••••••••••••