•••••••••••••••••••••••••••••
We're calling today's post "the non-one-page layouts post", for lack of a better title.
Tammy has create a beautiful (with a capital B) canvas that is a fun take on the sketch. And you know we've always got to show a few two-page layouts based on the one-page sketch! This one-page sketch is super easy to stretch into a two-page layout and you'll see how Jennifer and I both adapted it for two-pages.
One-page Sketch #4
You can download and print this sketch by clicking on the one-page sketches link found under the "printable sketches" tab on the right sidebar.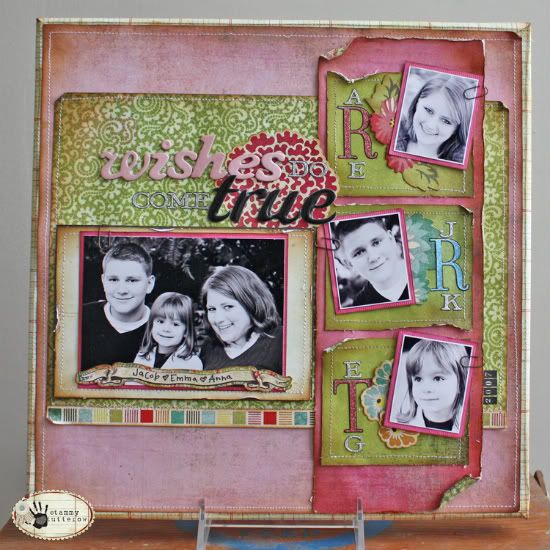 "Wishes Do Come True" canvas
by Tammy Tutterow
Supplies
-
Patterned Paper:
BasicGrey (Hello Luscious: Raspberry Syrup, Inviting, Simply Grand, Rosemary, Jalapeño Jelly);
Cardstock:
Bazzill; Stickers: BasicGrey (Hello Luscious Element Stickers);
Alphabet Stickers:
American Crafts (Thickers: Marquise, pink and unknown, black), K&Co Glitter Alphabets (Light Blue and Coral), Making Memories (Paper Reverie Alpha Shimmer and Tiny Alphas);
Embellishments:
Tim Holtz Idea-ology Mini Paper Clips;
Adhesive:
Claudine Hellmuth Studio Matte Multi Medium, Tombo Aqua, Scrapbook Adhesives by 3L EZ Runner;
Ink:
Tim Holtz Distress Ink (Vintage Photo);
Misc:
Donna Salazar Disstrezz-It-All, sewing machine
I wanted to create a display piece to feature some of my very favorite photos of my three children. This sketch was perfect for adapting to a canvas. Because I used a 12x12 canvas, I needed to add an extra layer to the sketch to cover the sides and edges.
I decided to omit the journaling from the sketch and use just a title to express the sentiment I wanted to
include.
I also used three photos instead of four as the sketch shows. This allowed me to have a bit more space on the photo strip to add some added dimension by curling my paper edges up which gave a peek at the pattern on the back side of the paper.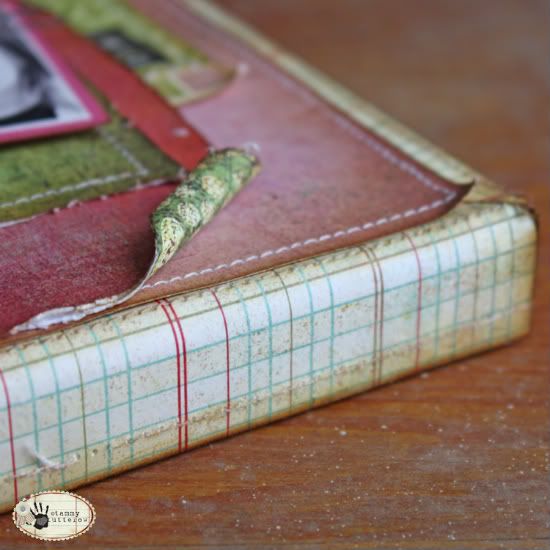 To help the small glitter letters stand out more and be easier to read, I used a fine tip pen to outline them.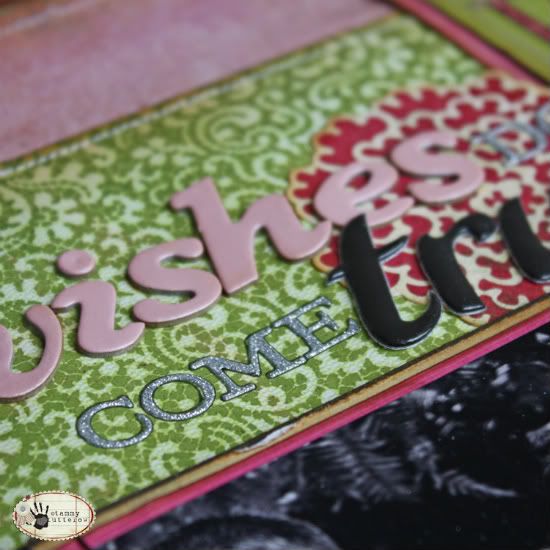 Here are a few more pictures of the details: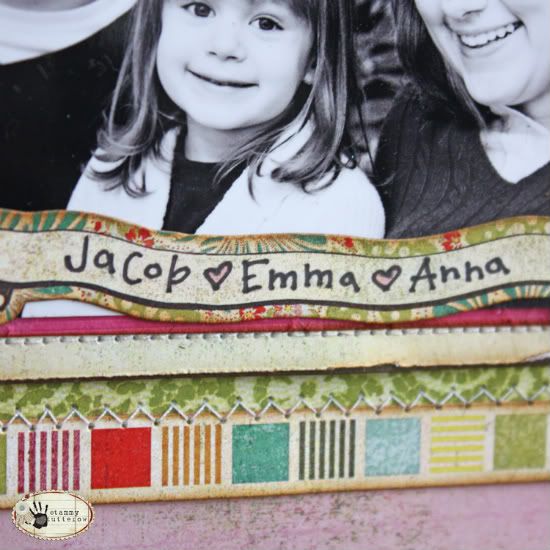 • • • • • • • • • • • • • • • • • • • • • • • • • • • • • • • • • • • • • • • • • • • • •
"Minnehaha Falls"
by Jennifer Larson
Products
-
Cardstock:
Bazzill (kraft);
Patterned paper:
Fancy Pants, My Mind's Eye, Adornit, American Crafts;
Punch:
EK Success;
Oval Cutter:
Coluzzle/Provo Craft;
Chipboard letters:
The Girls' Paperie, American Crafts;
Paint:
Claudine Hellmuth/Ranger;
Grid stamp:
Unity Stamps;
Ink:
Stampin' Up!;
Stickers:
My Mind's Eye;
Die cuts:
My Mind's Eye;
Flowers:
Jillibean Soup;
Floss:
DMC;
Pen:
American Crafts;
Other:
Brads, buttons
1. I wanted to use this sketch to make a page about our trip to Minnehaha Falls last year, but I had a lot of photos, so I decided to stretch it out over two pages. I essentially did the same thing on both pages, just in reverse and following the orientation of my photos.
2. I chose subdued, outdoorsy colors for the page and products that reflected the outdoors without being too showy.
3. I painted the raw chipboard letters yellow, then stamped on them with a grid stamp to rough them up a little.
• • • • • • • • • • • • • • • • • • • • • • • • • • • • • • • • • • • • • • • • • • • • •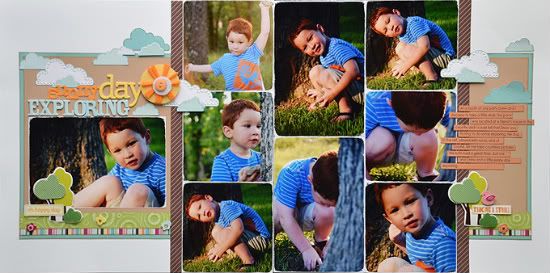 "Sunny Day Exploring"
by Allison Davis
Supplies
-
Cardstock:
Bazzill (white) and Core'dinations (green circles);
Patterned paper:
American Crafts;
Embellishments:
American Crafts (trees, flowers, bird, stickers, felt sun);
Alphabets:
Prima (sunny) and American Crafts (day, exploring);
Border punch:
Fiskars;
Embroidery floss:
DMC
I loved the overall design of the one-page sketch and thought it would be an easy one to stretch to a two-page layout.
Variation #1
- Stretching the sketch is the perfect way to explain how I adapted the one-page sketch into a two-page layout. I kept the elements the same and stretched the whole design to fit over two pages.
Variation #2
- When I use a one-page sketch for a two-page layout I almost always keep the title in the original place it is on the sketch and then move my journaling to the opposite page. In the case of this sketch I moved it to the opposite page for more room since I had a story that wasn't going to fit in the space provided on the sketch.
Variation #3
- I added an extra piece behind the background rectangle. I wanted to add a little more color around the solid brown piece.
Variation #4
- I loved
this layout by creative team member, Noey Hunt
and the cute clouds she had going across the page. I mentally tucked it away in my "must do" file. This layout was the perfect opportunity.
I followed the sketch with the sun and cloud embellishments but instead of just having the clouds near the title I also stretched them across the whole layout. I added stitching to a few of the clouds and used foam adhesive behind a some of them so they would pop up off the page.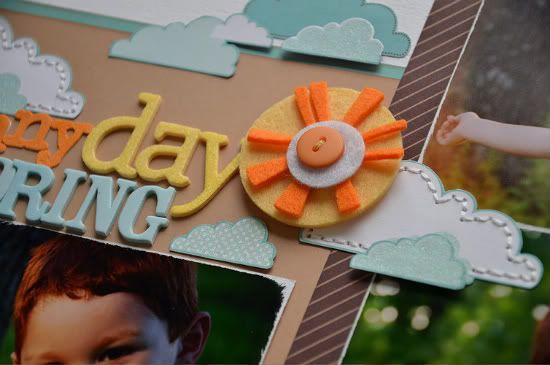 Variation #5 -
Since I had the clouds going across the top I thought I would continue the landscape look on the bottom too. I added a green scallop strip to represent grass along the bottom.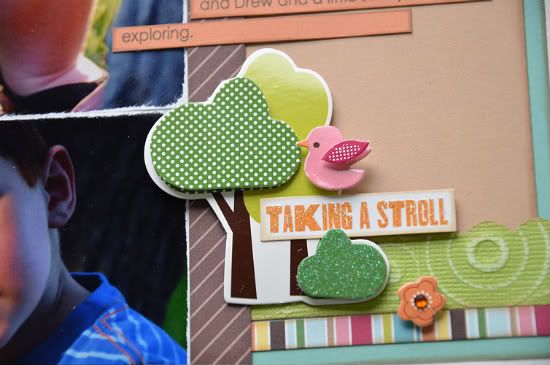 To complete the look I added trees, flowers, stickers, and a bird.
• • • • • • • • • • • • • • • • • • • • • • • • • • • • • • • • • • • • • • • • • • • • •
Sketches for Scrapbooking Giveaway Winner
The winner of the giveaway for our followers is...
melinap
You can email me at
allison@scrapbookgeneration
with your shipping information and to let me know which volume of Sketches for Scrapbooking you would like.