•••••••••••••••••••••••••••
Today we've got a beautiful layout full of fun little details from our Guest Designer, Megan Bickers. She also shares a really simple and really cool way to layer stamped images.
You can download and print this sketch by clicking on the one-page sketches link found under the "printable sketches" tab on the right sidebar.
"Evidence of the Love You Two Share"
by Megan Bickers
Supplies Used
-
Cardstock:
Close to My Heart (white);
Patterned Papers:
Cosmo Cricket (Circa 1934: Chaplin, Garbo, Bette, Elements, and 6x6 pad);
Stamps:
Technique Tuesday (Ali Edwards), EK Success (Image Tree Alphabet, Antique Typewriter), and Office Date Stamp;
Inks:
Ranger Distress Inkpads (Antique Linen, Barn Door) and Uchida (Marvy Matchables Black Inkpad);
Marker:
Zig;
Punches:
EK Success (heart), Carla Craft Binding System (Square Holes Punch), and We R Memory Keepers (Corner Chomper);
Embellishments:
American Crafts (Sweet - Love Tomato Glossy Chipboard Alphabet Stickers)
Photos:
four photos total used.
• Instead of using a horizontal 4x6 photo, I used a vertical 4x6 for the main photo.
• I used three photos instead of four in the strip along the right side of the layout.
• I added stamped journaling words between the smaller photos.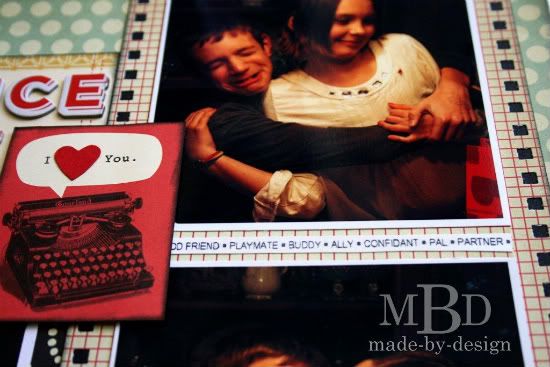 • I turned the right side strip into a photo negative strip with punches.
Title:
• I used the journaling area next to the title for a longer stamped subtitle on my layout.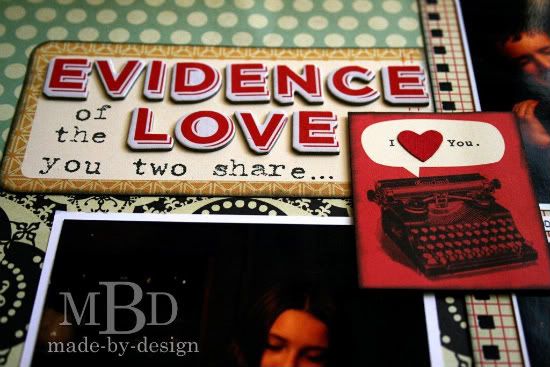 • I added my journaling in strips on the left side of the main photo.
• I changed the right side journaling strips into a tab with the date.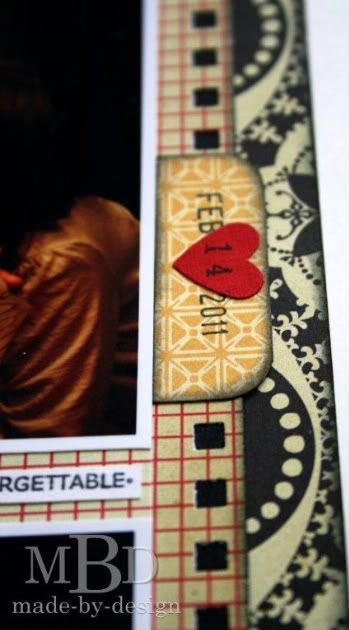 • I added a larger tab along the bottom of the main photo with a stamped saying.
• I stamped the saying in red ink, then went back, cleaned my stamp off, and used a marker to ink up the bottom words in black. Then I stamped those words on a white piece of cardstock and cut them out in strips and glued them down over the original stamped image.
Embellishments:
• My main embellishment was a printed image of a typewriter that I cut from a pattern paper.
• I used small punched hearts to accent my layout.
• Covered up the word " love" on the typewriter image with one of the hearts.
• I edged the outside of the layout with a black inkpad and sponge.
•••••••••••••••••••••••••••••••••••••••