•••••••••••••••••••••••••••••••••••••••••
I always love seeing sketches used for projects other than a scrapbook page. It's amazing just how many uses you can get out of a sketch and what it can be used with. Today we've got two beautiful home decor creations from Tammy and Christina that are such fun uses of the sketch. (Just wait until you see Tammy's awesome attention to detail in her unique use of the sketch and Christina's pretty handmade flowers!)
Plus, I'm sharing another PhotoBook Creator book that I made, this time using the one-page sketch for this month
and
we've got another great giveaway!
One-page Sketch #5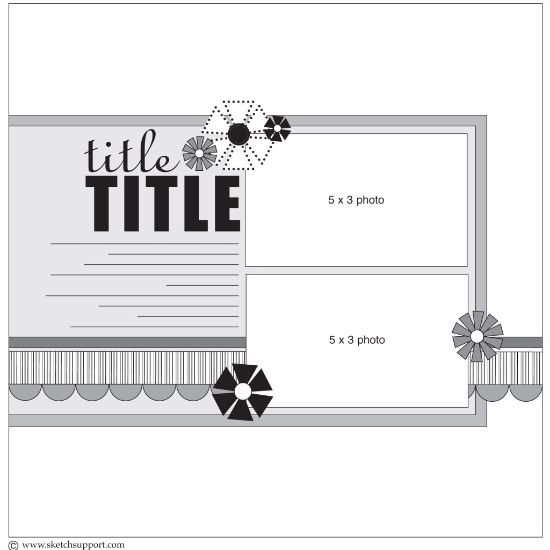 You can download and print this sketch by clicking on the one-page sketches link found under the "printable sketches" tab on the right sidebar.
"Alive" Quilted Art
by Tammy Tutterow
Supplies
-
Fabric:
Printed cotton and muslin: Joann's Fabrics; Claudine Hellmuth Sticky Back Canvas;
Ribbon:
BasicGrey;
Lace:
Vintage;
mists:
Adirondack Color Wash (Lettuce and Meadow) and Tattered Angels Glimmer Mist (Yellow Daisy, Blue Skies, and Vanilla Breeze);
stamps:
Tim Holtz (Slight Alterations and Fabulous Flourishes) and Hero Arts (Printer's Type Upper and Lowercase and Playful Letters);
stencil:
The Crafter's Workshop Birds of a Feather stencil;
markers:
Letraset Promarker (Primrose, Powder Blue, and Burnt Siena);
stains:
Tim Holtz Distress Stains (Wild Honey, Broken China, Faded Jeans);
ink:
Tim Holtz Distress Ink (Black Soot and Vintage Photo);
flowers, stars, and leaves:
Prima Homespun Bittles, Galaxy Stars, and Calcutta Leaves;
misc:
Tim Holtz Grungepaper
One day last week I came upon a photo by a photographer who's business name is Fully Alive. I was really taken with the name and thought to myself that it would be a great motivational motto. I decided to create a decorative piece to remind me of the idea. I used fabric to create a quilted art quilt that includes stamping and stenciling and a small bluebird nestled in flowers.
I varied my creation from the sketch in that I omitted photos and switched the journaling block to the right.
Here's a closer look at the details: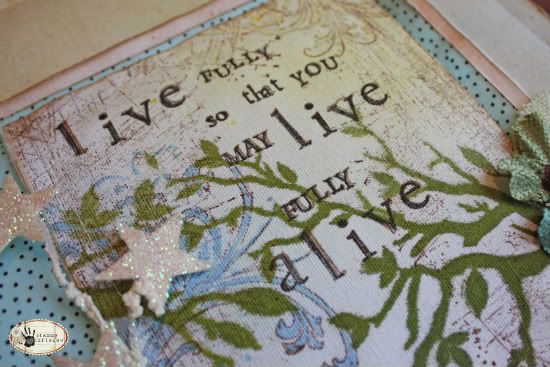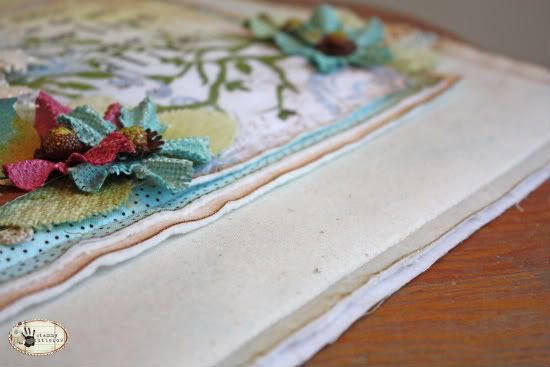 • • • • • • • • • • • • • • • • • • • • • • • • • • • • • • • • • • • • • • • • • • • • •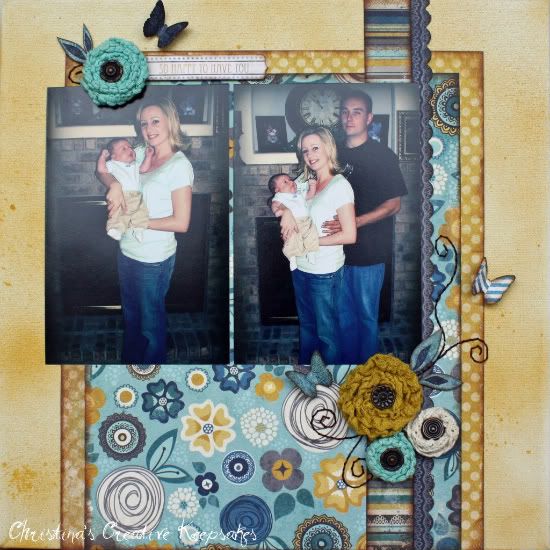 "So Happy To Have You"
by Christina Hoffman
Supplies
-
Canvas:
unknown;
Patterned paper:
My Mind's Eye;
Spray stain:
Design Master Home Decor Stain in Pecan;
Title:
My Mind's Eye;
Flowers:
Created with My Mind's Eye tulle, lace, and ribbon;
Brads:
Making Memories;
Embroidery floss:
DMC;
Tools:
Martha Stewart Butterfly Punch and Fiskar's Scallop Punch.
Variation #1:
I used a 12 x 12 piece of artist canvas. I also sprayed it to give it color instead of using a colored piece of cardstock.
Variation #2:
I flipped the sketch to accommodate my pictures.
Variation #3:
I also shifted my pictures to the left because I did not want to cover up all of the scalloped border. I also liked the look of the pictures hanging over the side a little.
Variation #4:
I only used one strip and a scalloped border.
Variation #5:
I moved my title to the top of the page since it was so small.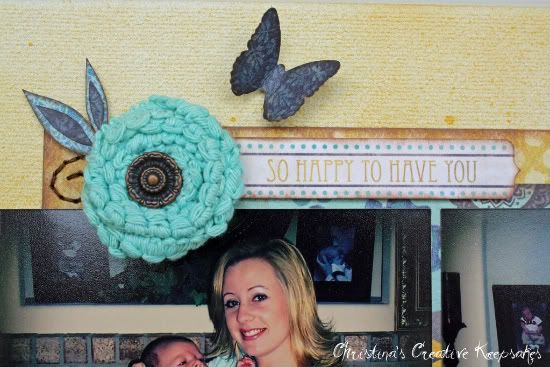 Variation #6:
I opted not to add any journaling.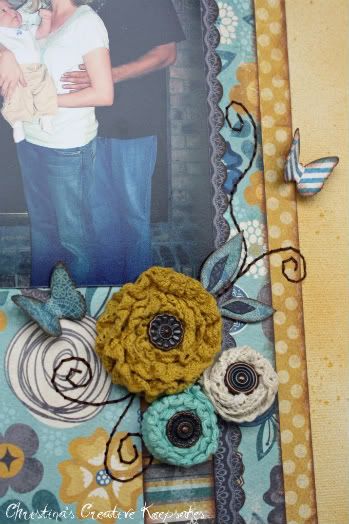 • • • • • • • • • • • • • • • • • • • • • • • • • • • • • • • • • • • • • • • • • • • • •
My Unibind PhotoBook Creator book using One-page Sketch #5
The book I'm sharing today is one of the reasons why I wanted to get a PhotoBook Creator. I love cookbooks and have always wanted a way to make some for myself and as gifts for my family. The PhotoBook Creator is so great for creating hard cover, durable cookbooks that are sure to last a long time.
I used the white 8 x 8 cover to make a book of cupcake recipes. I have a ton of cupcake books and this was a great way for me to have all of my favorites in one place. Plus it has my alterations to some of the ingredients in the book instead of me trying to remember what I added or took out.
Lately I've been on a cupcake baking kick and have been enjoying playing around with different recipes and flavors. It worked out perfectly that the scrapbooker in me always takes a picture of each of the different flavors when I make them.
I used the one-page sketch from this week to make the inside pages that have the pictures and recipes.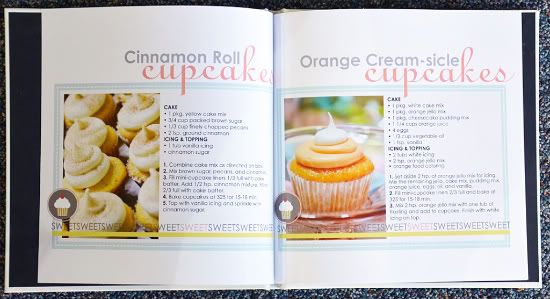 I did make a few changes to the sketch to fit what I was working with.
Variation #1
- I had to downsize the measurements of the sketch to fit the smaller 8 x 8 size. Since it was still the same proportions it was easy and I mostly eye-balled everything.
Variation #2
- I flipped the sketch. I wanted the edge of the recipe to be aligned with the edge of the picture. Usually I don't mind having my text aligned on the right but with a recipe I thought it might be a little confusing and easy to lose your place in the recipe. I moved the picture to the left so I could have my text aligned on the left edge.
Variation #3
- I centered the background pieces instead of having them on the left edge. This is so I wasn't cutting anything off the edge that would be in the spine of the book.
Variation #4
- I used the title and journaling area for the recipe and then moved the name of the cupcake to the top.
Variation #5
- I only used one of the embellishment areas on the sketch. I wanted to keep everything super simple on the pages so one was enough. If you look closely you'll see that it's the cupcake add-on sketch that I used in the small gray circle.
I used the Unibind double sided glossy photo paper for this book so I have recipes printed on both sides of the page. I know with cookbooks, it's frustrating to have one that doesn't lay open very well. With the double sided photo paper the pages aren't bulky and it lays open so I don't have to worry about losing my page in the book. And the best part is that I can keep adding to the book since all I have to do if I want to add more pages is reheat and insert the new pages!
• • • • • • • • • • • • • • • • • • • • • • • • • • • • • • • • • • • • • • • • • • • • •
It's giveaway time thanks to our April Sponsor!
We've got another PhotoBook Creator to give away today!
For this awesome giveaway, answer this question:
If you had the Unibind PhotoBook Creator what kind of book would you make?
You've got all weekend to answer the question in the comments section of this post. We will randomly pick a name and announce the winner on Monday.
•••••••••••••••••••••••••••••••••