•••••••••••••••••••••••••••••••••••••••
Today our April guest designer, Jennifer DeWolfe, is sharing her version of the one-page sketch. Her layout is full of fun and creatively clever details! I love that she really took the theme to an extreme level and incorporated it into so much of the design.
Jennifer has created some really great projects and we've enjoyed having her designing with the sketches this month. Thank you Jennifer for sharing your creativity with us!
One-page Sketch #5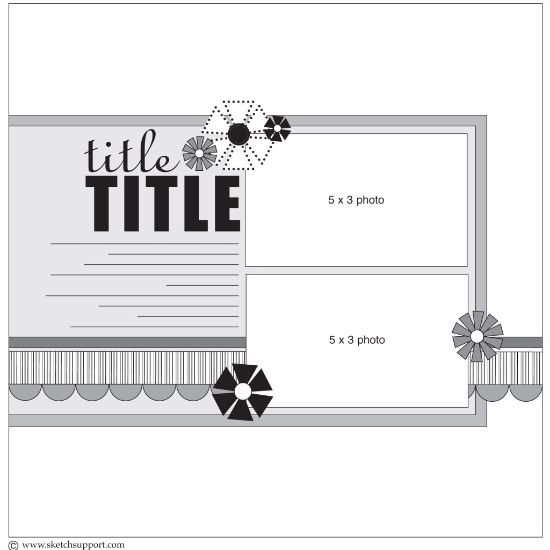 You can download and print this sketch by clicking on the one-page sketches link found under the "printable sketches" tab on the right sidebar.
"Weekend In The Woods"
by Jennifer DeWolfe

Supplies Used
–
Cardstock:
Bazzils (White);
Patterned Papers:
American Crafts (Campy Trails Collection);
Alphas:
American Crafts Thickers (Blue), Basic Grey (Brown);
Embellishments:
American Crafts Campy Trails Stickers, Embroidery Floss, Acrylic Paint (White), Tim Holtz Distress Ink (Broken China and Shabby Shutters) and Ribbon.
Everyone thinks my husband and I are nuts when we say we love to winter camp but honestly we do. It's always so peaceful and quiet and most of the times we are the only ones around. This year my husband decided to treat me and take me somewhere with heated washrooms and let's just say that I will not be going back to outhouses in -20C (that's -4F for my American friends) weather again! I sure do hope you enjoy this layout I have for you today.
Variation #1:
I flip the sketch so that it was the opposite way.
Variation #2:
I wanted my background paper to have more of a wintery feel so I took some white acrylic paint and a tooth brush and splattered paint all over the background paper.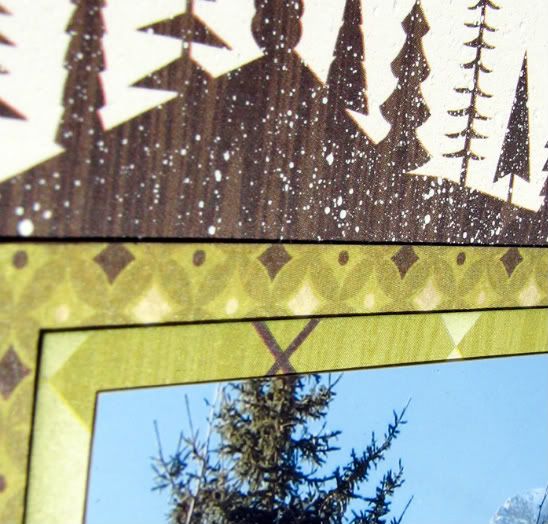 Variation #3:
Instead of using the striped strip like in the sketch I made a really cool strip of logs. I love how these look!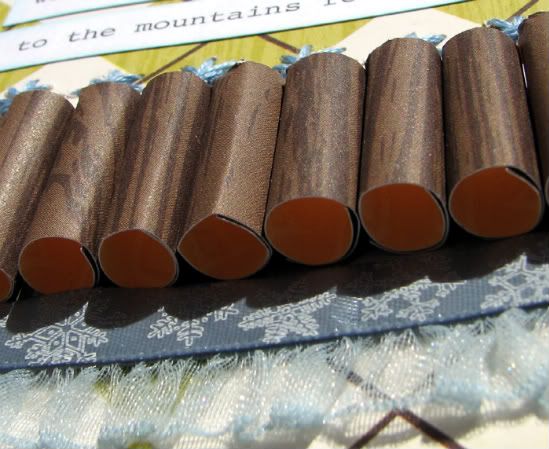 It was really easy to do. I cut 1" squares and then took each one and wrapped it around a pencil and gluing it in place and holding it for a few seconds until the glue sets. Be careful not to get glue on the pencil or you won't be able to slide it off once it sets.
Variation #4:
Instead of using scalloped strip like in the sketch I switched things up a bit and used two types of blue ribbon, a ruffle and a blue satin with snow flakes.
Variation #5:
Instead of using the cardstock strip like in the sketch I decided to stitch little snow flakes using the We R Memory Keepers Sew Easy tool.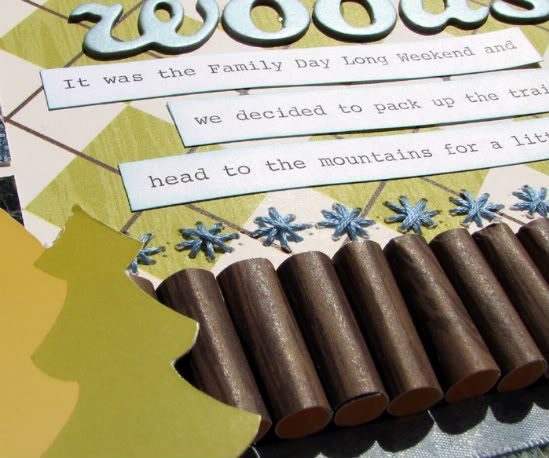 And there you have it! I would like to thank you all for kind words and support over the past month. I have enjoyed being a guest designer so much that words can't express and I hope that next year Allison will have me back! Take care and happy sketch scrapping everyone!
••••••••••••••••••••••••••••••••••••