••••••••••••••••••••••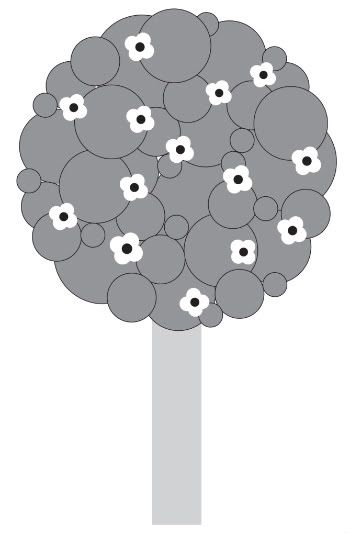 You can download and print this sketch by clicking on the add-on sketches link found under the "printable sketches" tab on the right sidebar.
One thing I'm really enjoying about this time of year is seeing the bare, naked trees fill in with green leaves! It sure does make my morning drive to take the boys to school a whole lot prettier along the scenic road we take.
This tree sketch can be used for almost any outdoor pictures, pages that have a scenic/landscape look in the design, and it works well with a family theme too. There are lots of ways to vary the sketch like:
• use circles in the same size
• use brads, buttons, or jewels instead of patterned paper for the circles
• use several different patterns or colors for the circles
• make it larger or smaller by keeping the same proportions
• add birds or butterflies to the top
• add a swing, grass, or hills to the bottom.
• use different shapes instead of circles
Check back tomorrow when we'll start sharing the wonderful pages and cards our creative team made based on this tree sketch.
Reminder: The deadline for our Creative Team call ends this Friday, May 20. You can find all the details by clicking here.
••••••••••••••••••••••••