•••••••••••••••••••••••••
Add-on Sketch #8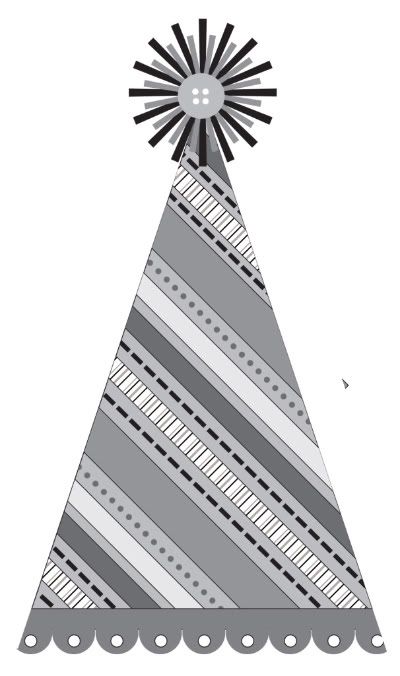 You can download and print this sketch by clicking on the add-on sketches link found under the "printable sketches" tab on the right sidebar.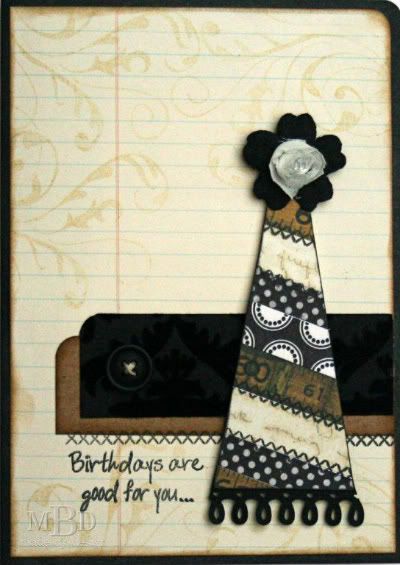 "Birthdays are Good For You" card
by Megan Bickers
Supplies
-
Patterned Paper:
The Paper Studio (Black Flocked Damask), Making Memories (Ledger Text), Sweetwater (Autumn Sweet, Black Polka Dot), EK Success (Antique Journal), K&Company (Folded Wood Tape Measure);
Cardstock:
Bazzill (Black), DMD (Kraft), Georgia Pacific (White);
Inkpads:
Ranger Distress Ink (Antique Linen, Brushed Corduroy), Marvy Uchida (Black);
Stamps:
Technique Tuesday (Hanging by a Thread), Close To My Heart (Card Sentiments), Autumn Leaves (Flourish);
Adhesive:
Foam Squares and Glue Dots;
Other:
WeR Memory Keepers Corner Chomper, Martha Stewart Punch (Loop Edger), Prima (Black Paper Flower), Maya Road (Small Organza Rose), Making Memories (Scrapbook Stitches, Cream Thread), Autumn Leaves Button (Black), The Paper
Studio (Gemstone), Ranger Foam Blending Tool.
Variation #1:
I created a tiny party hat to put on the front of a birthday card. I used scraps of papers I had in my scrap bin and added them to a white piece of cardstock on the diagonal. To mimic the stitching on the sketch, I stamped some stitches in black in randomly on the hat. For the top of the hat, I used a black paper flower and a ribbon rose with a gemstone glued in the center. The bottom of the hat was embellished with a scrap piece of black cardstock that had already been punched in a loop border. The party hat was adhered to my card with foam squares.
Variation #2:
I also used scraps to create the rest of the card. The cream background was a larger scrap that I stamped a flourish on. The black and kraft layers were punched with a corner rounder and stamped with the same stitches stamp. I included a stamped sentiment on the front of the card and also on the inside. My finished card measures 5 x7".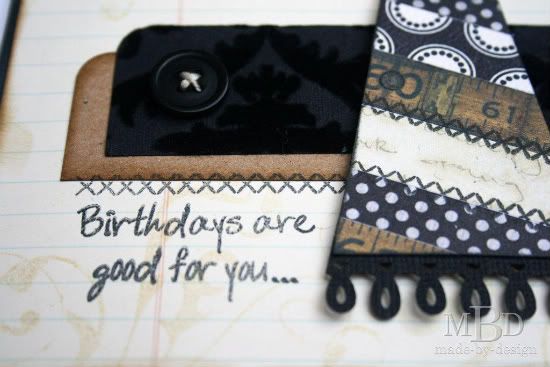 • • • • • • • • • • • • • • • • • • • • • • • • • • • • • •
"Happy Birthday" card
by Robbie Herring
Supplies Used
- Doodlebug Designs Petite Prints Paper, Bazzill Swiss Dots Blue and White Cardstock, Pink Paislee Alphabets, Misc. Ribbon and Brads
Variation 1:
I made my party hat smaller. My hats are 2x3 inches.
Variation 2:
I made two birthday hats without embellishments to add some dimension to the white space of my card.
Hints:
The top fringe of the party hats were made by punching 3 different circles of paper. I then cut three triangles randomly and layered them.
To make the ribbon edging on the bottom of the colorful party hat, I just cut little pieces of ribbon. I then glued them into loops and tucked them under the bottom of the hat.
I really love how perfect this sketch is for using up those small scraps of paper and ribbon!
• • • • • • • • • • • • • • • • • • • • • • • • • • • • • •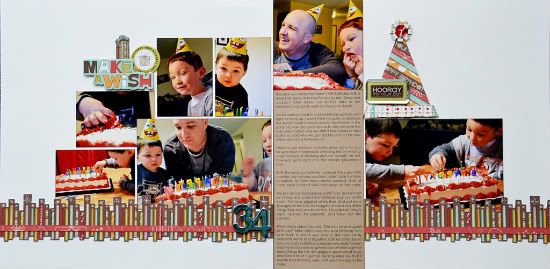 "Make a Wish"
by Allison Davis
Supplies
-
Cardstock:
Bazzill;
Patterned paper:
Imaginisce;
Chipboard and stickers:
Imaginisce;
Chipboard numbers:
American Crafts
Variation #1
- This time I used a smaller version of the add-on sketch as an embellishment for my layout. I kept the same proportions of the sketch but scaled it down to a smaller size.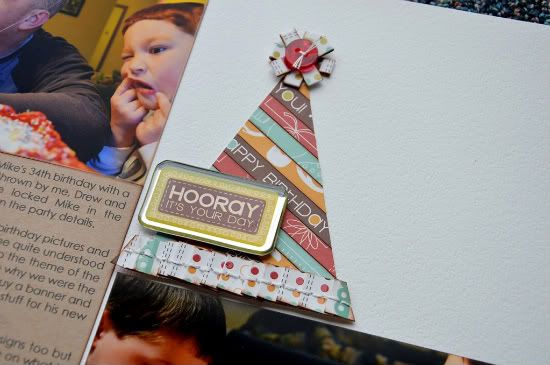 Variation #2
- Instead of using different sizes of strips to cover the birthday hat, I used the same size for each strip.
Variation #3
- Along the bottom of the hat I used a pleated strip and then added a simple hand stitched line across it.
This doesn't really have anything to do with the add-on sketch but, it's hard to see in the picture: Along the bottom of my layout I cut out a row of candles from a piece of patterned paper.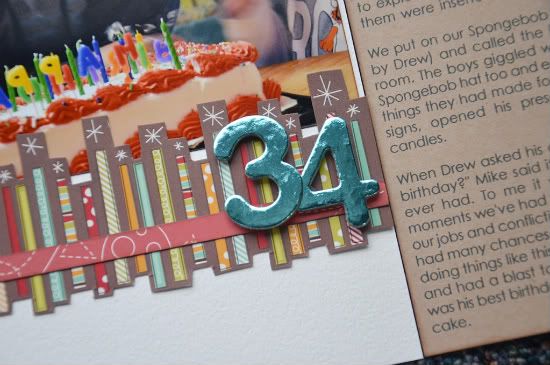 ••••••••••••••••••••••••