•••••••••••••••••••••••
One-page Sketch #12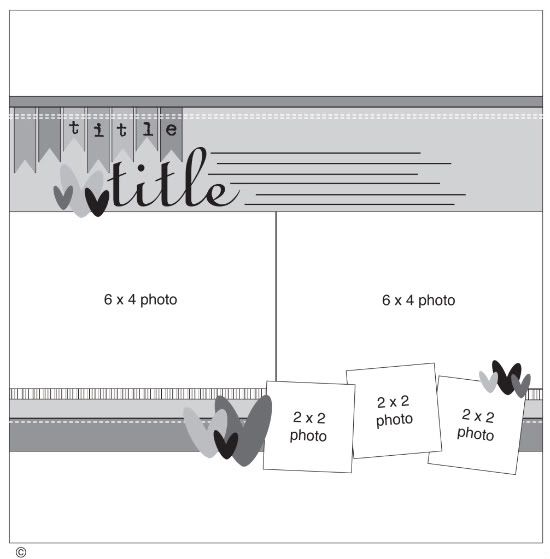 You can download and print this sketch by clicking on the one-page sketches link found under the "printable sketches" tab on the right sidebar.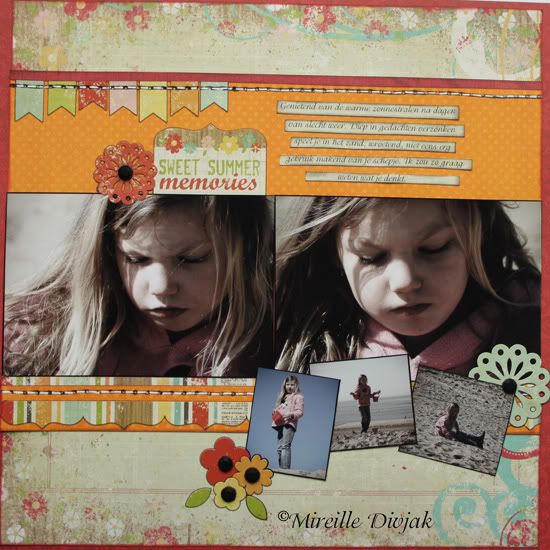 "Sweet Summer Memories"
by Mireille Divjak
Supply list
-
Cardstock:
Bo Bunny (double dot orange, citrus dot, and wild berry flourish);
Patterned paper:
Simple stories (100 days of summer - Sweet Memories, Endless Summer);
Stickers:
Simple Stories (Fundamentals Card Stock Stickers, 100 Days of Summer);
Gems:
Teresa Collins (Blingage);
pens:
American Crafts and Sakura
We had a large bunch of rainy days and then all of a sudden it was ok again. Not warm but "ok enough" to play. Watched her while she was diggin in the sand, in deep deep thoughts. Wished I knew what she was thinking.
Here's a closer look at the details:
• • • • • • • • • • • • • • • • • • • • • • • • • • • • • •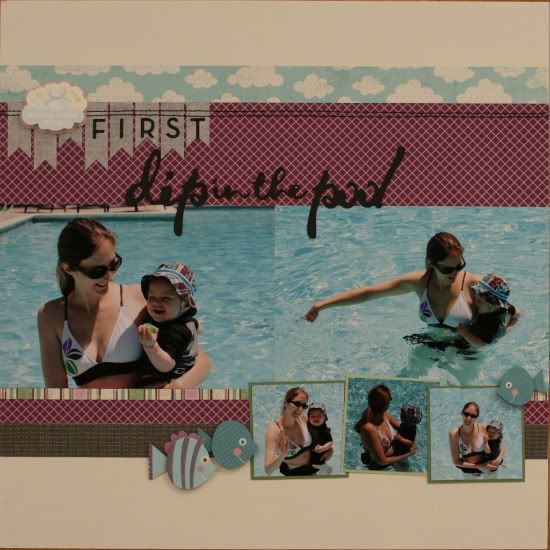 "First Dip in the Pool"
by Noey Hunt
Products used
-
Patterned paper:
Bella Blvd (purple), My Mind's Eye (clouds), Making Memories (stripes);
Stickers:
Marcella K (first swim), K&Company (fish), Making Memories (glitter letters);
Tools:
Sewing machine, Cricut Gypsy Font cartridge (title)
Variation 1:
Framing. Since all of my photos were primarily blue on the edges, I needed to frame the supporting photos for them to stand out. I added a 2 1/4 inch square frame to each photo in two different shades of green.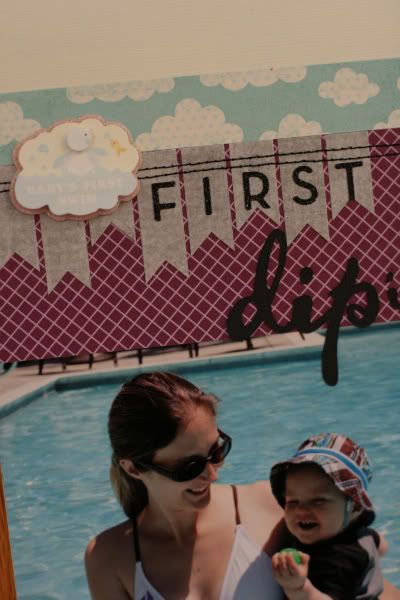 Variation 2:
Title. I skipped the journaling and stretched the title to fill some of the space that was intended for journaling. I figured the title really summed it up.
• • • • • • • • • • • • • • • • • • • • • • • • • • • • • •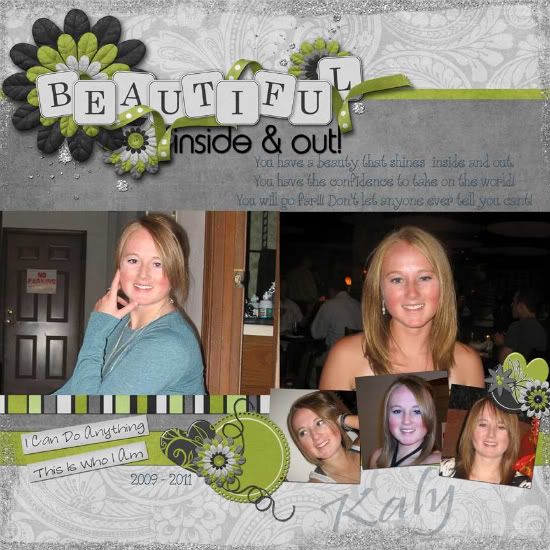 "Beautiful Inside & Out" by Tammy Volland
• • • • • • • • • • • • • • • • • • • • • • • • • • • • • •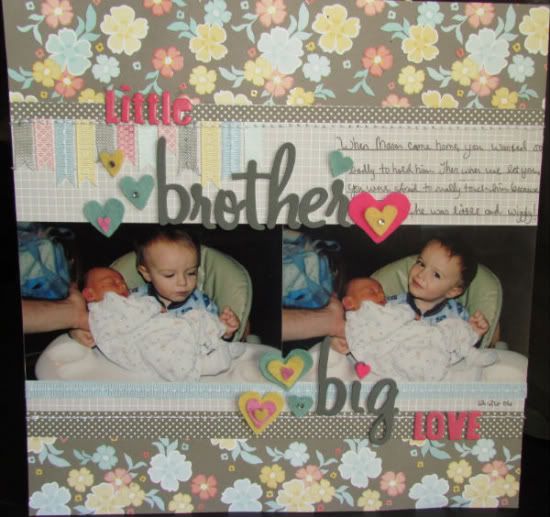 "Little Brother, Big Love" by Amy Roller
Supplies: Patterned paper: American Crafts; Letters: American Crafts, Fancy Pants; Felt: Papertrey Ink; Ribbon: American Crafts, unknown
One of the biggest variations I made to this page was deciding to use a pattern paper for the base. Because I only had two pictures to use, I also left off the three small photos and extended my title to that area.
It helps draw your eye down and across page just as the photos would have. I followed the rest of the sketch pretty close, but used a ribbon across the bottom in place of the stripe because I didn't have a stripe that matched.
I added a few more ribbon strips in the top left corner to balance out my long title on top.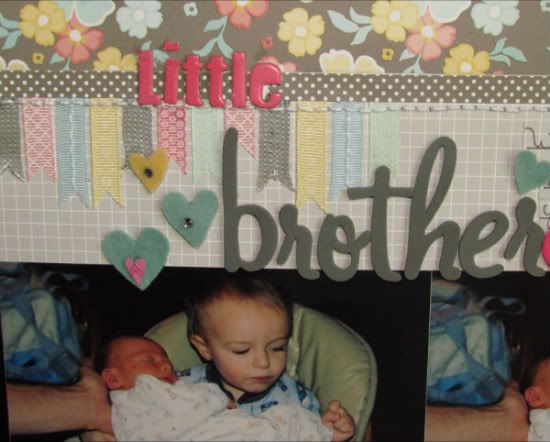 I just cut varying strips of coordinating ribbon and then cut an upside down "v" on the ends to form the pennant shape. I also hand cut several hearts in different sizes and colors of felt to sprinkle throughout. I topped them off with rhinestones or mini hand cut hearts from patterned paper.
• • • • • • • • • • • • • • • • • • • • • • • • • • • • • •
"Husband & Wife" by Melissa Bell
Supply List - Transparency: Making Memories; Die Cut Paper: Making Memories; Rub-on: My Mind's Eye; Letter Stickers: Making Memories; Floss: DMC; Other: Patterned Paper and Cardstock
In many ways I stuck with the overall feel of this sketch and made a few variations to fit with what I wanted.
I omitted the heart embellishments. I wanted to keep my layout simple and felt that the hearts (or any other embellishment) would be distracting.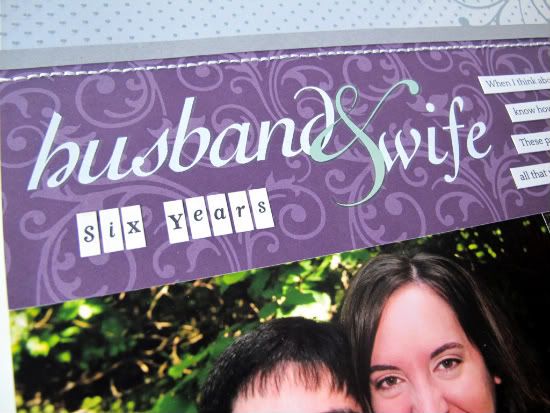 I also didn't use the flags for my title. I did keep with the differet strips of paper but used different sizes and added a portion of a die cut paper to add the lacy like scallop.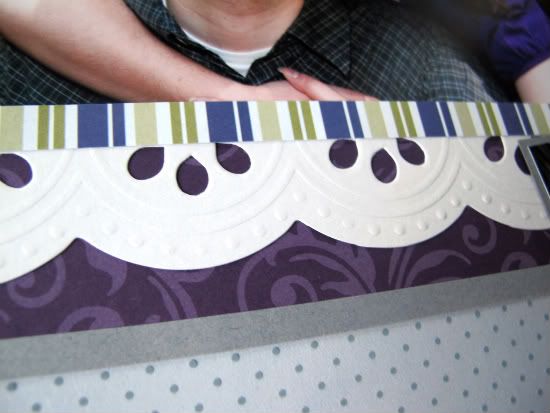 One thing I love about this layout is that I used oldies but goodies that I already had in my scrapbooking stash. Allison's sketches are a great way to use what you already have on hand!
•••••••••••••••••••••