••••••••••••••••••••••••••••
Two-page Sketch #18
You can download and print this sketch by clicking on the two-page sketches link found under the "printable sketches" tab on the right sidebar.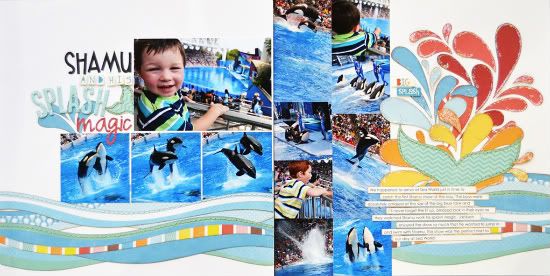 "Shamu and His Splash Magic"
by Allison Davis
Supplies
-
Cardstock:
Bazzill;
Patterned paper:
Echo Park and Cosmo Cricket;
Stickers:
Echo Park;
Alphabets:
Doodlebug (Shamu), Echo Park (and his), American Crafts (splash), and BasicGrey (magic);
Glitter Accent:
Stickles
Variation #1
- I still followed the water theme of the sketch but gave it a bit of a different look. I used long wavy pieces cut from a patterned paper and then overlapped them. I used the same wavy type of strip for my striped strip too.
Variation #2
- I really wanted to add a whale tail to the splash on the page to support the theme. I didn't have anything like that in my supplies so I hand drew the tail and cut it out of patterned paper.
For the splashes I cut the pieces out of a patterned paper and arranged them to try and make it look like the whale tail was making a big splash, just like Shamu does. I also took the splash as an opportunity to get some more color on the layout since blue is such a dominate color in the pictures.
Variation #3
- I made a smaller version of the splash and the whale tail for my title. The splash was perfect for enhancing "splash" in the title.
Variation #4
- I had a lot more photos that I wanted to get on this layout so I used eight smaller photos in place of the three 6 x 4 photos on the right page. Six of the photos are 2 1/2 x 2 1/2 and the other two are 2 1/2 x 4 1/2.
• • • • • • • • • • • • • • • • • • • • • • • • • • • • • •
"We Love Halloween"
by Shari Thurman
Supply List
-
Patterned Paper and Chipboard:
We R Memory Keepers;
Tools:
Cricut Expression, Sew Easy Piercing Mat, and Paper Piercer by We R Memory Keepers;
Software:
Design Studio;
Cricut Cartridges:
Halloween - Designer's Calendar, Fence - Paperdolls Dress Up, and Spider - Doodlecharms;
Ink:
Colorbox Chalk Ink and Ranger Distress Ink:
Alphabet:
American Crafts;
Embroidery Thread:
DMC;
Adhesive:
ATG by Scotch and 3D foam adhesive by Thermoweb;
Other:
Googly Eyes, Cardstock
When I first saw this sketch, I knew I wanted to switch it up and scrapbook some Halloween photos of my boys. I also wanted to try stitching a spider web on the right side of the layout.
Overall, I stayed true to the sketch, other than changing the theme and adding extra embellishments. I started by placing my layered border at the bottom and adding the fence.
Using Design studio, I made my fence 3 inches wide and placed 4 fence panels side by side across the page to give me a 12 inch fence. I used ink to distress them a bit.
I added the vertical strips and then lightly drew the spider web design with a pencil. Using my paper piercer and a piercing mat, I poked holes in my paper. Be careful not to bend and warp your paper when hand stitching. The end result won't be pretty. I then put on a really good, long movie and started stitching.
The inspired design for the spider web came from one of the die cut papers in this Halloween collection from We R Memory Keepers called Spookville.
After I finished stitching, I added my photos and attached my journal spot using 3D adhesive. I didn't want them to get bent while I was stitching. I double matted my focal photo and added chipboard photo corners. All other photo placements follow the sketch.
The foam alphabets were just a little bright for my layout, so I used an old dried out ink pad and distressed them a bit to tone down the color.
I placed my polka dot spider at the corner of the photo as the sketch suggested, added googly eyes and attached him to the spider web. I used 3D Adhesive to give him dimension.
My boys were so excited to see this layout that they literally ran around with their Spiderman mask, Ironman mask and Superman cape on all day long.
• • • • • • • • • • • • • • • • • • • • • • • • • • • • • •
"Merry Christmas"
by Christine Chain
Supplies
-
Patterned paper and stickers:
Echo Park
This layout came together so easily! All Echo Park supplies, and all of my strips came from the sheet of border strips! Yippee! The hardest part was trimming around the trees, and that's just because my eyes don't like seeing up close too well anymore!
1)
I kept all the photos on the left hand side the same sizes in the sketch. However, I decided to make a 6x12" photo block on the right instead of four 6x4 photos. Thank goodness for Photoshop, right? I just played around with the pictures that I had from Christmas until I liked it, and then re-sized them to make them fit. I added a 10px stroke outline border to all of the photos in the block because they were blending together too much.
2)
Well, obviously this isn't a "summer" theme, so no waves on this layout. I kept the striped border the same, and added a "ho ho ho" border strip on top.
The Christmas trees are attached to the stripes, so I just trimmed around each tree to add some shape to the strip (instead of waves like in the sketch).
3)
Another change is how I used the trees and Santa instead of the cool swirls in the sketch.
The trees were too green on their own, so I added Santa. And the sticker sheet that I had came with this nice little journaling box. Woo-hoo!
• • • • • • • • • • • • • • • • • • • • • • • • • • • • • •
"Soak Up the Sun"
by Melissa Bell
Supply List
-
Patterned Paper:
Echo Park, Fancy Pants Designs, American Crafts;
Die Cut Sun:
Little Yellow Bicycle;
Letter Stickers:
American Crafts;
Ink:
ColorBox Chalk Ink, Inkadinkado;
Floss:
DMC;
Pop Dots:
EK Success;
Other:
White Cardstock
The minute I saw this sketch a number of layout ideas ran through my head. I know I will be using this sketch again and again. I stayed true to this sketch in many ways and made a few variations.
Variation 1
- I added an extra line of waves since they were all about the same height.
Variation 2
- I loved the idea of the sun on the layout and thought this would be the perfect page for the die cut sun I've had in my stash for a year. I love how it turned out.
Variation 3
- I was short on pictures so decided to dedicate one of the spaces for a 3x3 photo into a place to write my journaling.
Variation 4
- I decided to add clouds to the right side of my sketch. I really struggled with what to put there instead of the big waves. I'm happy with how they turned out.
Variation 5
- I added more fish. They were just too fun and couldn't help but add a couple more.
•••••••••••••••••••••••