••••••••••••••••
Card Sketch #14
You can download and print this sketch by clicking on the card sketches link found under the "printable sketches" tab on the right sidebar.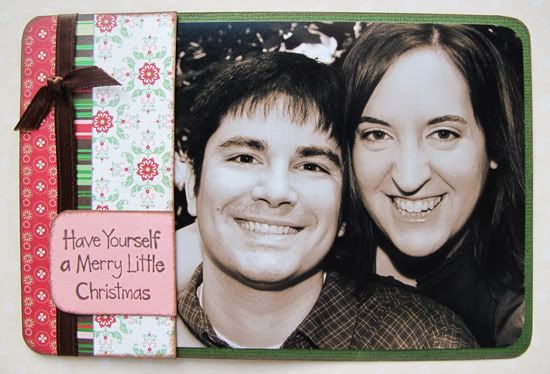 "Have Yourself a Merry Little Christmas"
by Melissa Bell
Supplies
-
Cardstock:
DCWV;
Patterned paper:
SEI;
Ribbon:
Offray;
Rub-ons:
Provo Craft;
Stamps:
Studio G;
Corner Rounder:
We R Memory Keepers;
Ink:
Colorbox Fluid Chalk Ink and Staz On
I love this card sketch and it really did inspire me, but what I ended up creating doesn't really look much like it this time around. For the last couple of weeks I have been looking at Christmas photocards at various sites online trying to decide which one to choose. I guess you could say photocards have been on my mind and I thought why not try creating my own.
Variation #1
- Instead of making a folding card I made mine a flat 6x4 card.
Variation #2
- Since I made my card horizontal I just stretched out the white space and had that be my photo.
Variaton #3
- Instead of using a tree embellishment I decided to keep it simple by just using strips of patterned paper and ribbon.
For the back of the card I decided to go with a top ten list for 2011 and then create a place to write a personal note.
Now who is willing to create 39 more of these for me?
• • • • • • • • • • • • • • • • • • • • • • • • • • • • • •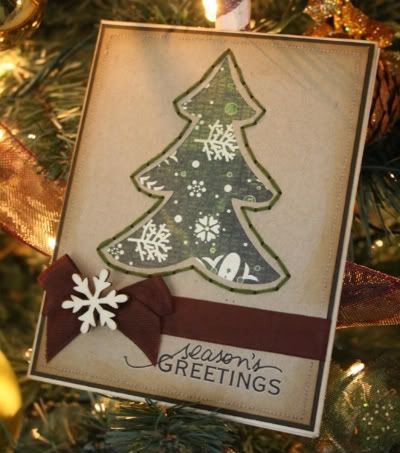 "Season's Greetings"
by Carolyn Wolff
Supply List
-
Cardstock:
Bazzill;
Patterned Paper:
Basic Grey;
Rub-On:
Little Yellow Bicycle;
Ribbon:
May Arts;
Ink:
Ranger Distress Ink;
Floss:
DMC;
Die-Cut:
SVG File From The Cutting Café;
Snowflake:
Maya Road
Variation #1
– I die-cut the tree shape in to the kraft cardstock and placed patterned paper behind instead of creating a tree and placing it on the card front.
Variation #2
– Instead of adding the stitching to the tree, I stitched around the outside of the die-cut using embroidery floss.
Variation #3
– I eliminated the star and the trunk of the tree. I added ribbon and the snowflake.
Variation #4
– I used a rub-on for my sentiment and placed it in the lower right corner rather than overlapping my tree.
• • • • • • • • • • • • • • • • • • • • • • • • • • • • • •
"Tis The Season"
by Katrina Hunt
Supplies
-
Patterned Paper:
Nikki Sivils, Scrapbooker (Gingerbread Land Collection);
Cardstock:
American Crafts;
Die Cut Embellishments:
Nikki Sivils, Scrapbooker (Gingerbread Land Collection);
Adhesives:
Glue Arts, Fabri Tac and Scrapbook Adhesives;
Twine:
The Twinery (Baker's twine in Buttercup)
Variation 1
- Flipped card to open from bottom
Variation 2
- Tree flipped and made smaller
Variation 3
- Added additional elements, which caused me to move the message to above the tree instead of below.
Variation 4
- Instead of a die cut bracket shape layer, I just layered border strips for something different.
• • • • • • • • • • • • • • • • • • • • • • • • • • • • • •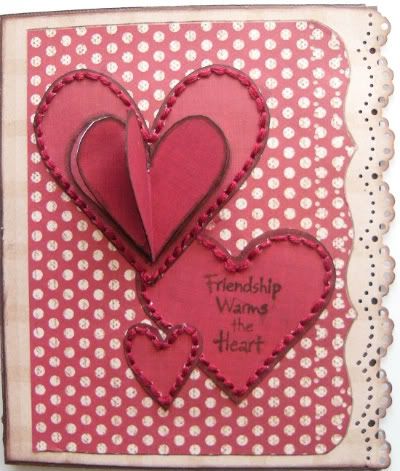 "Friendship Warms the Heart"
by Amy Roller
Supplies -
Patterned paper:
Die Cuts With a View, Lasting Impressions;
Thread:
DMC;
Stamps:
Hero Arts;
Ink:
Colorbox;
Variation# 1:
I added a border punch along the edge of my cardstock.
Variation # 2:
I decided I wanted to use another shape other than the tree for this one. I went with a cluster of hand cut hearts instead. The largest heart has 4 smaller, identical hearts folded and glued together accordion style and then both ends were glued to the large heart to make a 3-D shape and add some extra depth.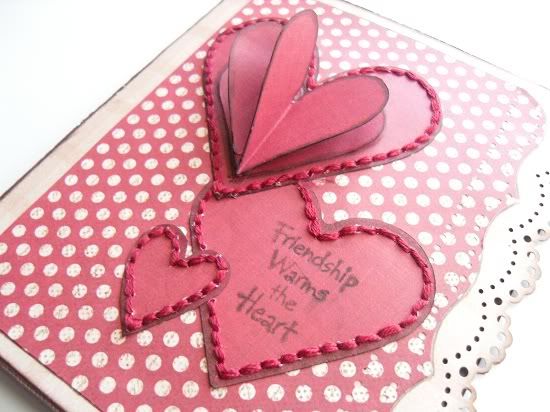 Variation # 3:
Obviously because of changing the shape, my stitching was placed differently than on the sketch. I went around each heart instead of across them. Then I stamped my sentiment directly on one of them.
•••••••••••••••••