•••••••••••••••••
One-page Sketch #18
You can download and print this sketch by clicking on the one-page sketches link found under the "printable sketches" tab on the right sidebar.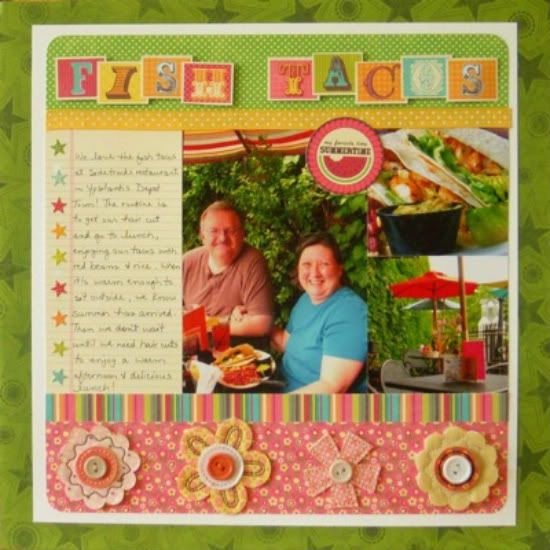 "Fish Tacos"
by Sue Althouse
Supplies
-
Cardstock:
Bazzill;
Patterned Paper:
Bo Bunny, Jillibean Soup (Sweet & Sour, Watermelon Gazpacho);
Title Letters, Journaling Card, Star Stickers:
Jillibean Soup;
Flowers:
Basic Grey;
Other:
yellow ribbon
I can hardly wait for warmer weather and outdoor lunches at one of our favorite local places!
Variation #1
- Added more patterned paper strips in place of the big heart.
Variation #2
- Mounted all the page elements on white cardstock, trimmed and matted that onto a patterned paper background.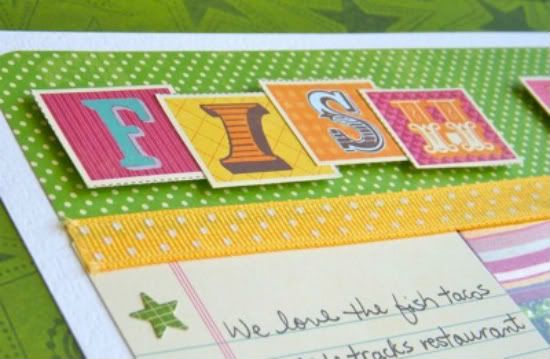 Variation #3
- Substituted flowers and stars for the heart embellishments.
• • • • • • • • • • • • • • • • • • • • • • • • • • • • • •
"He"
by Suzanna Lee
Supply List
-
Cardstock:
Bazzill Basics;
Paper Layer and Stickers:
Glitz;
Mask and Quilted Word:
Prima;
Mist:
Studio Calico;
Labels:
My Minds Eye, Authentique, Ormolu, Kaiser Craft;
Lace:
Maya Road;
Punch:
EK Success;
Wood shape:
Pink Paislee;
Crochet flower:
Kaiser Craft;
Twine:
The Twinery;
Button:
My Minds Eye
Variation #1:
No heart but a misted a circle as the background instead.
Variation #2:
Instead of the 4x6 picture, I used a piece of 4x6 craft cardstock with a smaller picture and some embellishments to adorn it.
Variation #3:
I can't journal in the quantity that that journal block called for so I minimized it and altered it's purpose by using a bunch of banner like pieces instead.
Variation #4:
No stripey strips here either!! I used a coordination sticker border and a strip of lace instead of the stitching.
• • • • • • • • • • • • • • • • • • • • • • • • • • • • • •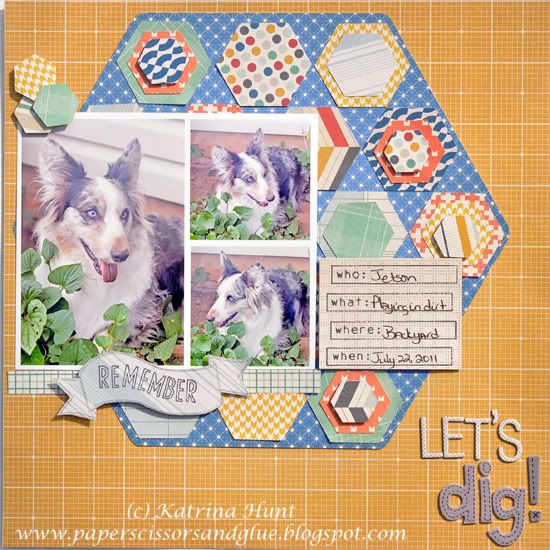 "Let's Dig"
by Katrina Hunt
Supplies
-
Patterned Paper:
American Crafts (Chap Collection);
Stamps:
Unity Stamp Co. (S.M.A.K Jan. and Feb. 2012);
Adhesives:
Scotch, GlueArts and Scrapbook Adhesives;
Tools:
Silhouette Cameo with Silhouette files
Variation 1
- Made hexagon, instead of the heart
Variation 2
- Added additional hexagons for dimension.
Variation 3
- Moved picture to the far left, which cause the journaling to be moved also.
Variation 4
- Moved title down to right hand corner
• • • • • • • • • • • • • • • • • • • • • • • • • • • • • •
"You Are My Sunshine"
by Megan Bickers
Supplies Used
-
Cardstock:
Georgia Pacific (White), Bazzill (Pink, Yellow, Black);
Patterned Paper:
Tim Holtz Idea-ology (Retro Grunge);
Inks:
Marvy Uchida (Black), October Afternoon (Art Box
Sprinklers:
Brown Bag);
Stickers:
7 Gypsies (Mini Label Stickers: Date);
Tools:
EK Success (3/4" Circle Punch); Silhouette America (Cameo: You are My Sunshine, Tag, Doily), Ranger (Foam Blending Tool), Basic Grey (Paper Files);
Markers:
American Craft (Precision Pen: Black);
Other:
Autumn Leaves (Buttons), May Arts (Black Ribbon), White Crochet Thread;
Adhesive:
Ranger (Matte Accents), Therm-O-Web (Zots).
Variation #1:
I used a printed "sun ray" pattern paper for my background instead of a cut out shape.
Variation #2:
I added my title to the top of my journaling block instead of putting it at the top of the layout.
Variation #3:
I added a few more photos than what was shown in the sketch and varied their sizes a bit.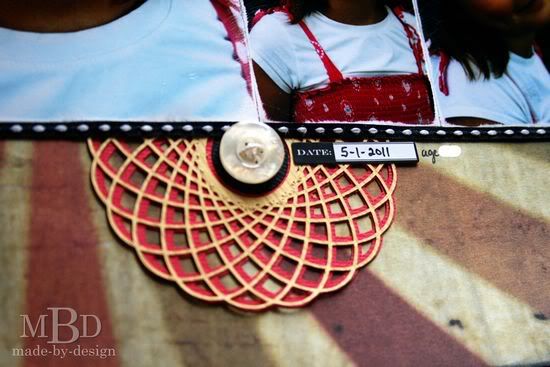 Variation #4:
I added ribbon to the top and bottom of the photos to help ground them.
Variation #5:
I flipped the journaling block from the left side of the layout to the right.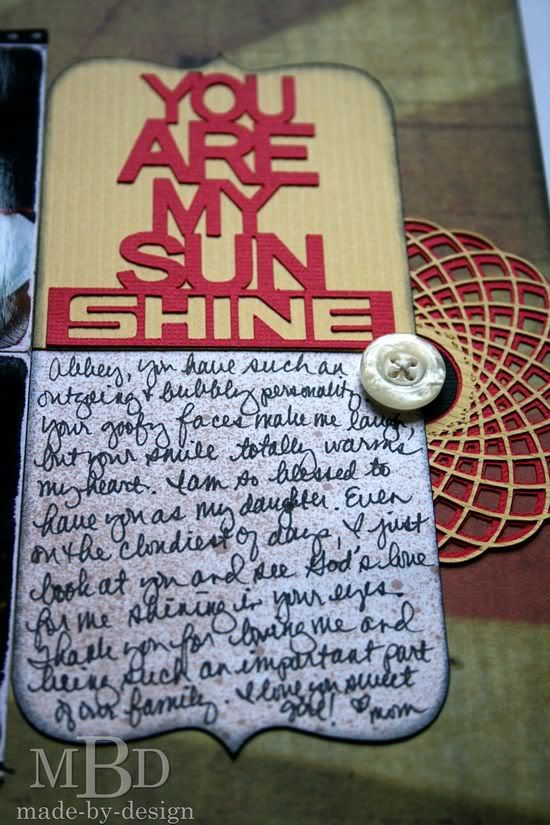 ••••••••••••••••