••••••••••••••••
Two-page Sketch #27
You can download and print this sketch by clicking on the two-page sketches link found under the "printable sketches" tab on the right sidebar.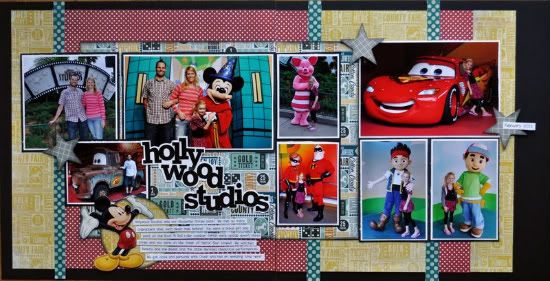 "Hollywood Studios"
by Jill Sarginson
Supplies Used
-
Patterned Paper:
My Mind's Eye;
Cardstock:
Bazzill Basics;
Alpha:
Jillibean Soup;
Embellishments:
Disney;
Ink:
Vibrance;
Tools:
Creative Memories star punch, circle maker;
Font:
DJB Tweenybopper
Variations
• The sketch has three vertical 2.5 x 2.5 photos on the right hand side - I opted to go with two photos here.
• The sketch has a 5 x 3.5 photo on the right hand side. I opted to use two photos that were about 3" wide each.
• I put my journaling at the bottom of my page vs. the top.
• • • • • • • • • • • • • • • • • • • • • • • • • • • • • •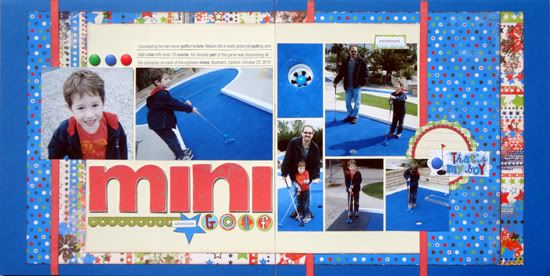 "Mini Golf"
by Andrea Friebus
Supply list
-
Cardstock:
American Crafts;
patterned paper:
Bo Bunny, Little Yellow Bicycle;
stickers:
Jolee's Boutique, Creative Imaginations;
journaling spot:
Jillibean Soup;
ink:
Clearsnap;
other:
chipboard letters
Variation #1
- I eliminated the small photo on the left page so I could use large title letters. (I thought it was funny to use such large letters to spell the word "mini").
Variation #2
- Rather than three small square photos on the right page, I used two photos that had the same dimensions. I also changed the orientation of the 6x4 photo and turned the 5 x 3.5 photo into two smaller photos.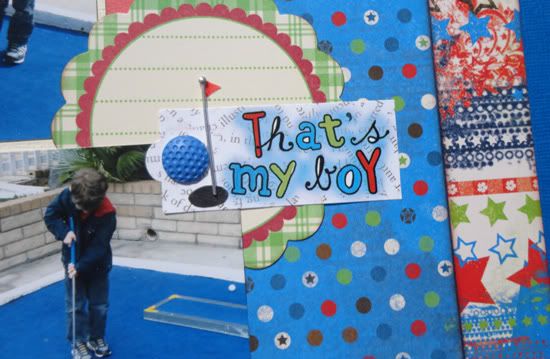 Variation #3
- I added some embellishments next to the journaling in the upper left.
• • • • • • • • • • • • • • • • • • • • • • • • • • • • • •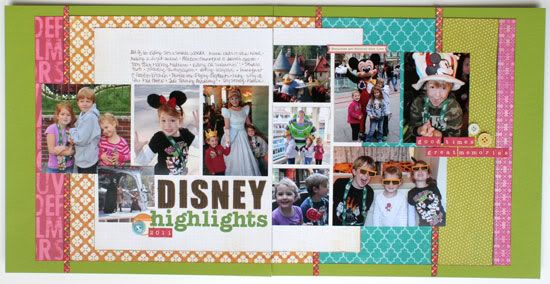 "Disney Highlights 2011"
by Christine Chain
Supplies
–
patterned paper:
American Crafts, Crate Paper, Echo Park, Jillibean Soup
; buttons: Crate Paper; label and letter stickers: Jillibean Soup; ink: Tsukineko; corrugated letters: Jillibean Soup (all from my February Green Tangerines Kit Club)

Variation #1 – I used a cute mini-heart print from Jillibean Soup rather than striped paper. I didn't have a good stripe to match all the patterned paper I was using, and I liked how this paper coordinated and had a small enough print to work.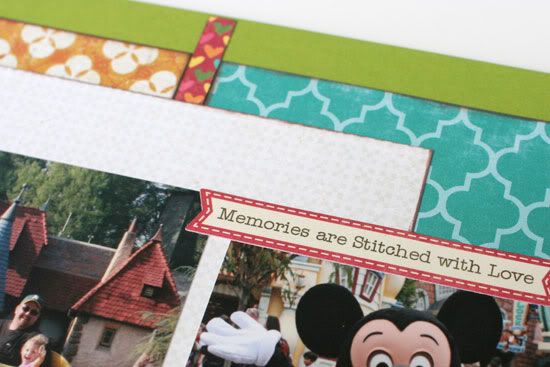 Variation #2
– Instead of using labels and a swirl on the far right, I used little letter stickers and a couple of buttons. I was able to write the sentiment I wanted to in the same space without changing the overall design.
Variation #3 – For the title, I kept the embellishments and actual title similar to the sketch by using letter stickers and a button, along with a small label. However, I omitted the actual block behind the title.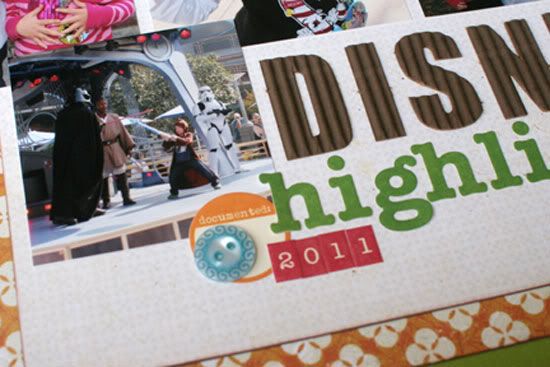 ••••••••••••••••••••