••••••••••••••••
Two-page Sketch #27
You can download and print this sketch by clicking on the two-page sketches link found under the "printable sketches" tab on the right sidebar.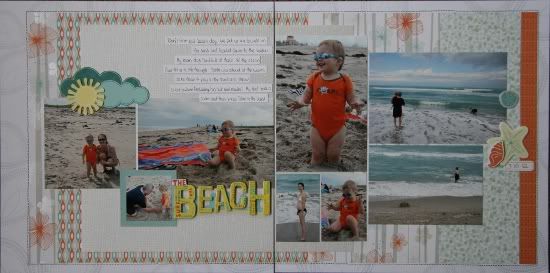 "The Beach"
by Noey Hunt
Products used
-
Patterned papers:
SEI (most papers), Creative Memories (background), Cherry Arte (orange strip);
Accents:
SEI, Me&My Big Ideas (title), Scenic Route (journaling block);
Tools:
Cricut (sun)
Variation 1:
Photo sizes. I expanded the column of square photos on the right page to include a vertical 4x6 inch and two 2x3 inch photos. I shrunk the square photo on the left page to 2x2 inches, but added a 2.5x2.5 inch patterned paper frame.
Variation 2:
Background papers. I stretched the background strips on the right page to accommodate my wider photos. I skipped the striped strips and instead outlined the background block of papers with faux stitching.
Variation 3:
Accents. I moved the left most accent grouping up on top of the photos to balance colors throughout the layout.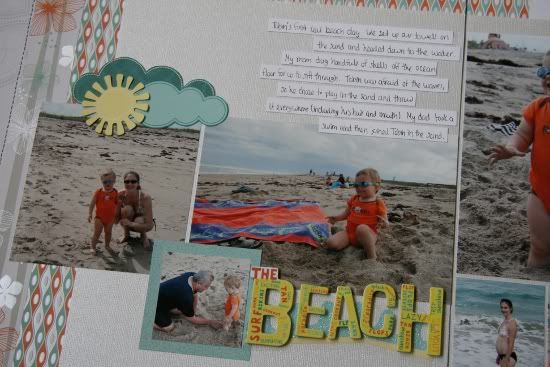 • • • • • • • • • • • • • • • • • • • • • • • • • • • • • •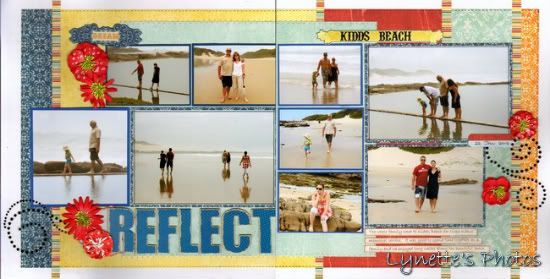 "Reflect"
by Lynette Jacobs
Supply List
-
Cardstock:
Bazzill;
Printed papers:
Pink Paislee (365 degrees);
Die Cuts:
Pink Paislee (365 degrees);
Crystal Swirls:
Prima;
Flowers:
Prima;
Alphabets:
Pink Paislee and Upikit
Variation #1:
I faux stitched with a black pen around the outer edges.
Variation #2:
I zigzag machine stitched around the inside square.
Variation #3:
I matted all my photos and drew black lines around two photos.
Variation #4:
I changed the small photos to 2.5 x 3.5.
Variation #5:
I moved the small photo on the left side page to the top and the journaling to the bottom of right side page.
•••••••••••••••••••