•••••••••••••••••••••••••••••••••••••••
This sketch works great to add a fun element on a page but you can take it even further by using the whole sketch as it is. Today we've got two layouts that stretched the card sketch into a two-page layout.
Card Sketch #4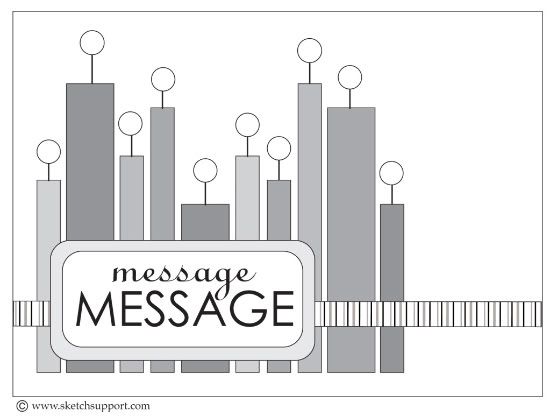 You can download and print this sketch by clicking on the card sketches link found under the "printable sketches" tab on the right sidebar.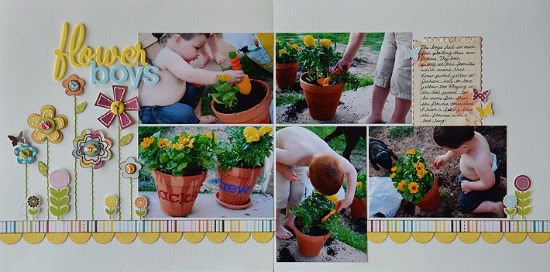 "Flower Boys"
by Allison Davis
Supplies
-
Cardstock:
Bazzill;
Patterned paper:
Echo Park and Fancy Pants;
Foam alphabets:
American Crafts;
Flower stickers:
Echo Park;
journaling card;
Making Memories;
Embroidery floss:
DMC;
Other:
buttons
One thing I really love about this sketch is that it's easy to adapt to a layout. I kept the overall design of the sketch the same while stretching it into a two-page layout.
Variation #1
- As the mom of two boys, any chance I can get I like to sneak flowers onto my layout. So imagine my happiness when I had pictures worthy of adding flowers with good reason.
I used the same general design of the candles on the card sketch to place the flowers on my layout. They might not be in the same height proportions as on the sketch but I tried to get the same overall look.
I used hand cut flowers, stitching, and buttons to make the flowers. For the stems I used a straight line of stitching accented with hand cut leaves in a few spots. The last thing I added were little flower stickers along the bottom.
Variation #2
- I added a scallop strip along the bottom of the striped strip. I did this mostly to add more yellow to the layout to accent the yellow flowers in the pictures.
• • • • • • • • • • • • • • • • • •
• • • • • • • • • • • • • • • • • • • • • • • • • • •
••••••••••••••••••••••••••••••••••••••••••••••••••••
"Happy Birthday to You"
by Amy Roller
Supplies
-
Cardstock:
Close to my Heart;
Patterned paper:
My Mind's Eye and Imaginisce;
title:
My Minds Eye;
Flourishes:
Prima;
Stamp (flame):
Close to My Heart;
Ink:
Daffodil-Stampin up!;
Butterfly:
Jenny Bowlin
For the card sketch I decided to make it into a 2 page layout. I took it and enlarged it onto a 12 x12 and then carried the strip across the other page as well.
I didn't use a stripe because I didn't have one so I went with dots and added a second strip behind to ground it with a more solid color. I also added this color across the top of my pics to pull it together.
Because there weren't any photos I was able to just put them where I wanted according to what sizes I needed. I also added a hand drawn music notes across the page and a few extra embellishments here
and there to help fill in space.
•••••••••••••••••••••••••••••••••••