••••••••••••••••••
Two-page Sketch #13
You can download and print this sketch by clicking on the two-page sketches link found under the "printable sketches" tab on the right sidebar.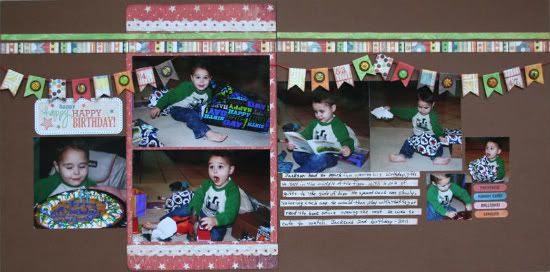 "Happy Happy Happy Birthday!"
by Shari Thurman
Supply List
-
Patterned Paper, Brads and Cardstock stickers:
Basic Grey;
Tools:
Fiskars border punch and We R Memory Keepers Corner Chomper;
Ink:
Colorbox Chalk ink;
Other:
Cardstock and twine
I absolutely love this sketch. I followed it almost exactly as shown. The subtle changes I made include adding decorative brads to my banner, replacing one of the small 2 x 2" photos with word stickers and I omitted the additional embellishements across the layout. I also used journal strips instead of writing directly on my layout.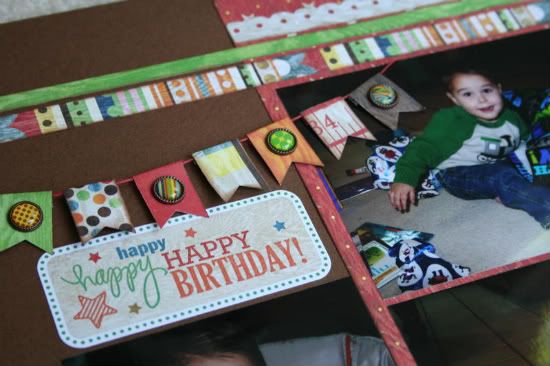 "Jackson had so much fun opening his birthday gifts. He sat in the middle of the floor with a pile of gifts to the side of him. He opened each one slowly, savoring each one. He would then play with that toy or read the book before opening the next. He was so cute to watch. Jackson's 2nd Birthday- 2011"
• • • • • • • • • • • • • • • • • • • • • • • • • • • • • •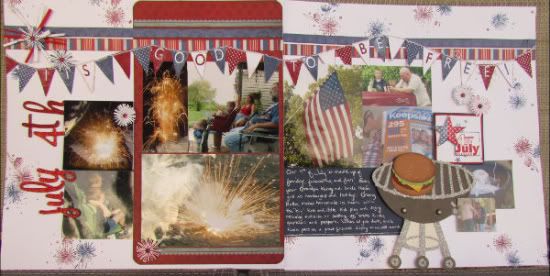 "July 4th"
by Amy Roller
Supplies
-
Cardstock:
Close To My Heart, Stampin UP!, Bazzill;
Patterned paper:
Scenic Route, We R Memory Keepers;
Letters:
American Crafts;
Stamps:
Close To My Heart, Stampin Up!, unknown;
BBQ grill
: Hobby Lobby;
Brads:
Making Memories, Stampin Up!;
Thread
I stuck fairly close to the sketch as far as the papers go. I did change the picture sizes to fit what I had and wanted to make sure I didn't have to leave out any important ones. I added fireworks to the background paper using a stamp, (which is actually a flower stamp!) I had a few extra photos so I moved my title down the side instead of above the picture on the left.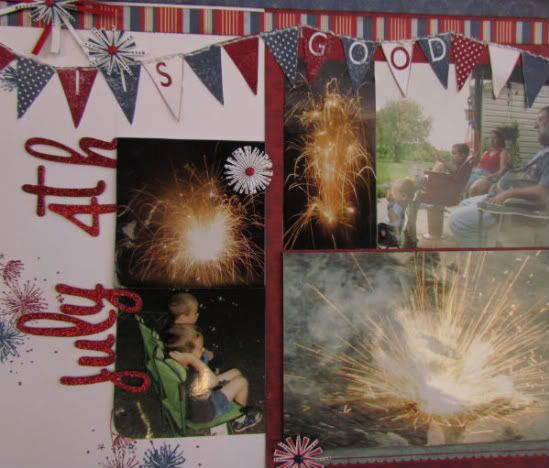 I also popped several photos up along the layout to emphasize several of them.
For the banner, I hand stamped it and cut it out. Then I stuck them down and stitched them together. I also added several hand stamped and hand-cut firework bursts across the page in place of the embellishments shown on the sketch.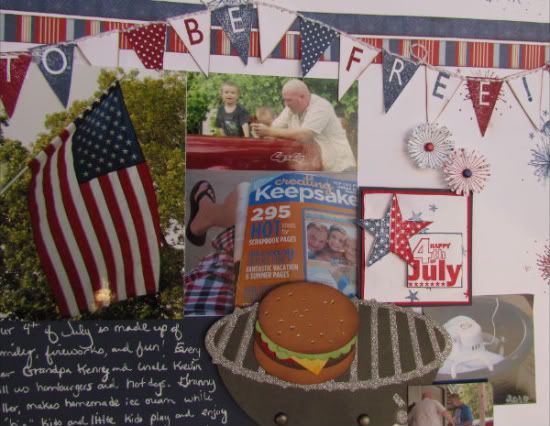 On the right side, I added a BBQ grill embellishment that I bought at a craft store. I added a few brads to it for more detail. Then I topped it off with a handmade hamburger. The tutorial to make it is from my friend, Pam Todd of splitcoaststampers. It is made out of cardstock, and punches.
• • • • • • • • • • • • • • • • • • • • • • • • • • • • • •
"The Ultimate Scrapbook Generation Kit Club Sampler" winner
Thank you to everyone who participated in our National Scrapbook Day blog hop! I know I had a great time going to each blog and seeing all the different takes on our two-page bonus sketch. It always amazes me at how differently each person interprets a sketch and how many possibilities one sketch holds.
The winner of "The Ultimate Scrapbook Generation Kit Club Sampler" is...
Paper Doll
said...
Another blog hop! So much fun! I'd love to win all those kits!
1. waves - Carolyn Wolff
2. a jeweled star - Suzanna Lee
3. a wood chip border - Shari Thurman
4. Title: "Surprise Visit" - Allison Davis
5. watermelon - Katrina Hunt
6. gears - Christina Hoffman
7. the word "grace" - Tammy Tutterow
8. stitched flourishes - Jennifer Larson
9. a bicycle - Amy Roller
10. a picture of Play-Doh - Melissa Elsner
11. a swing - Noey Hunt
12. Mickey Mouse - Jill Sarginson
13. a layout with four photos - Christy Arthur
You will need to email me at
allison@scrapbookgeneration
to claim the giveaway. You'll also need to include your shipping information and we'll have that prize on it's way to you.
•••••••••••••••••••••••••••••••••••